If I Could Ask God Anything: Awesome Bible Answers for Curious Kids
Spiral-Bound |
Kathryn Slattery
Rebinding by Spiralverse™
★★★★☆+ from 31 to 100 ratings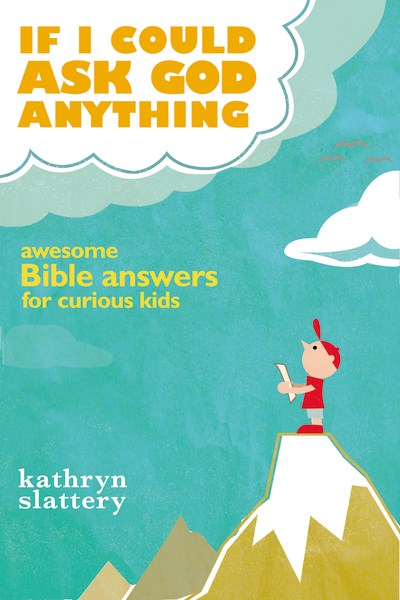 Awesome Bible answers for curious kids! If I Could Ask God Anything is a unique kid-friendly book jam-packed with clear, fresh answers to important questions about God, faith, prayer, and Christianity in language that children can understand.
Answer your children's questions about the Bible, God, Jesus, Christianity, and more with this kid-friendly guide full of clear, fresh explanations that children can understand as they learn more about God and grow in faith.
Kids love to ask questions and explore the unlimited question "Why?" With If I Could Ask God Anything, established author Kathryn Slattery investigates common questions children ask. A great resource for families, new believers, and curious children, this book is a must have.
This helpful book tackles hard questions such as:
If God is invisible, how do I know He is real?
Did Jesus live on Earth before or after the dinosaurs?
Why should I go to church?
What will happen to me when I die?
How can the Holy Spirit help me?
Does God stop loving me when I sin?
If I Could Ask God Anything
is perfect for children, ages 7 to 10, to read by themselves or with a parent
includes scripture verses, detailed descriptions, and takeaways
helps families understand the Bible as well as learn about church traditions and famous Christians
is useful for starting faith conversations in your family, Sunday School class, or homeschool devotion time
Complete with a note to parents, this well-rounded, Scripture-based answer book will help young readers establish a closer relationship with God, as well as help adults nurture their child's mind and spirit.
Known by millions as a longtime contributing editor for Guideposts magazine, Kathryn "Kitty" Slattery has written hundreds of stories of hope and inspiration for a wide variety of publications, including ParentLife, Today's Christian Woman, and Angels on Earth magazines.
In addition to her latest children's book, 365 Bible Answers for Curious Kids: An If I Could Ask God Anything Devotional (Thomas Nelson), she is the author of My Friend Jesus (Thomas Nelson), If I Could Ask God Anything: Awesome Bible Answers for Curious Kids (Thomas Nelson), Heart Songs: A Family Treasury of True Stories of Hope and Inspiration (Guideposts Inspiring Voices), the memoir Lost & Found: One Daughter's Story of Amazing Grace (Guideposts Books), Grandma I'll Miss You: A Child's Story about Death and New Life (David C. Cook), The Grace To Grow: The Power of Christian Faith in Emotional Healing, A Bright-Shining Place: the Story of a Miracle, and she is a contributing author to numerous Guideposts anthologies and TommyNelson.com. Her children's book The Gospel for Kids (David C. Cook) has more than 100,000 copies in print in nine languages. Kathryn, who is known as Kitty, resides in New Hampshire with her husband Tom, and they are the parents of two grown children. Visit Kitty and learn more about her work at her website: www.KathrynSlattery.com, and her Facebook Author Page.