The Ultimate Guide to Great Mentorship: 13 Roles to Making a True Impact
Spiral-Bound |
Scott Jeffrey Miller
Rebinding by Spiralverse™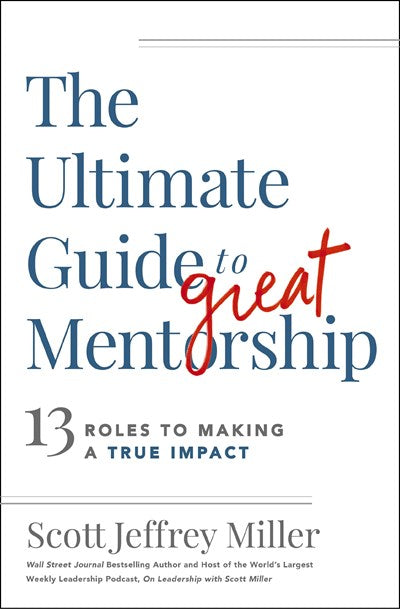 Easy, practical guidance on how to make the most out of your mentorship journey.
Being a great mentor leads to thriving, engaged employees on both sides of the mentor-mentee relationship and helps drive renewed purpose. There are growing expectations and interest in business today that leaders will make themselves available as mentors to provide future leaders growth opportunities and help them grow in their roles. There is also plenty of evidence that shows how impactful mentorship can be for the mentors when approached with the right mindset.
The Ultimate Guide to Great Mentorship walks mentors through the mentorship journey, from setting initial expectations and goals, to tracking progress, to identifying when it is time to find new opportunities. Filled with practical sample plans and forms to make the experience much more impactful for all parties, this timely guide takes the ambiguity out of how to be a great mentor.
Learn how mentor-mentee relationships work best for both parties.
See how other top leaders approach mentorship and what works and what doesn't.
Keep your mentorship journey on track with practical forms and timelines to work on with your mentee.
See how being a great mentor leads to personal and professional growth and renewal for you as well as your mentee!
'Commemorating the end of a successful mentoring relationship is an important capstone. In Scott Miller's newest release, The Ultimate Guide to Great Mentorship, this task is assigned to Role 13, The Closer. Here, a mentor can celebrate their mentee's progress as they prepare them for the next phase of their growth.' -Jon Acuff, New York Times bestselling author, keynote speaker, and entrepreneur
Capping a twenty-five-year career in which he served as chief marketing officer and executive vice president, Scott Miller is currently FranklinCovey's senior advisor on thought leadership, spearheading the strategy, development, and publication of the firm's bestselling books on this topic.
Miller hosts the FranklinCovey-sponsored On Leadership with Scott Miller, the world's largest and fastest-growing weekly leadership podcast. Miller also authors a leadership column for Inc.com, and hosted the weekly iHeart Radio show Great Life, Great Career.
In addition to supporting FranklinCovey's global thought leadership efforts, Miller has developed the Ignite Your Genius™ coaching series to help leaders take their careers from accidental to deliberate. He hosts FranklinCovey's Bookclub.com series with world-renowned authors. Miller and his wife live in Salt Lake City, Utah, with their three sons.