The Promise Code: 40 Bible Promises Every Believer Should Claim
Spiral-Bound |
O. S. Hawkins
Rebinding by Spiralverse™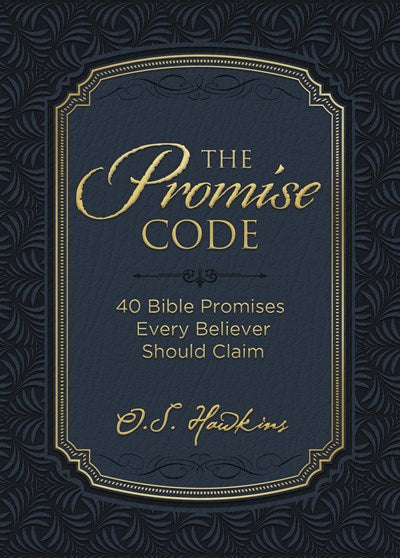 Do you trust in the promises of God you've read in the Bible? Do you live your life by them? In The Promise Code, join trusted Bible teacher O. S. Hawkins as he dives into 40 of those promises, giving them context and meaning. Find the joy and peace that can only come through an understanding of how you can count on God's promises to be true in your own life.
Learn how to:
Lead a faithful Christian life by believing in God's promises
Draw nearer to God through studying what He says to be true in His Word
Experience peace amid life's troubles
This beautiful book will be a favorite on your bedside table, and it makes a perfect gift for:
The many people who already are fans of the Code Series
Anyone who needs a little lift in their life
Graduations, Christmas, birthdays, Mother's Day, and Father's Day
Each of the 40 entries contains a Bible promise, a reading that illuminates that promise, and a prayer that will stay with you throughout your week, helping you to remember God's promise to you.
Also enjoy other O. S. Hawkins's books in this series:
The Joshua Code: 52 Scriptures Every Believer Should Know
The Jesus Code: 52 Scripture Questions Every Believer Should Answer
The Prayer Code: 40 Scripture Prayers Every Believer Should Pray
The Believer's Code: 365 Devotions to Unlock the Blessings of God's Word
The Bible Code: Finding Jesus in Every Book in the Bible
O. S. Hawkins, a native of Fort Worth, Texas, is a graduate of TCU (BBA) and Southwestern Baptist Theological Seminary (MDiv, PhD). He is the former pastor of the historic First Baptist Church in Dallas, Texas, and is President Emeritus of GuideStone Financial Resources, the world's largest Christian-screened mutual fund serving 250,000 church workers and Christian university personnel with an asset base exceeding twenty billion dollars, where he served as President/CEO from 1997-2022. Hawkins is the author of more than fifty books, including the best-selling Joshua Code and the entire Code Series of devotionals published by HarperCollins/Thomas Nelson with sales of more than two million copies. He preaches in churches and conferences across the nation. He is married to his wife, Susie, and has two daughters, two sons-in-law, and six grandchildren. Visit him at OSHawkins.com and follow him on Twitter @OSHawkins.