Brave Enough to Be Broken: How to Embrace Your Pain and Discover Hope and Healing
Spiral-Bound |
Toni Collier
Rebinding by Spiralverse™
★★★★☆+ from 101 to 500 ratings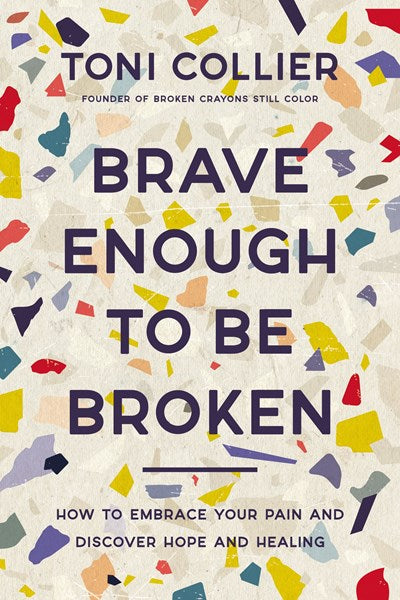 None of us are perfect. And that is okay!
Trauma, abuse, childhood wounds, and toxic relationships have broken us. But there is no shame in brokenness. In fact, it's in our brokenness where the healing power of Jesus comes to find us.
Brave Enough to Be Broken is a biblical road map you can use to heal from the pain, the shame, and the regrets that have tried to steal your joy, so you can rest in the unconditional love, healing, and hope of Jesus.
From Toni Collier, founder of the international women's ministry Broken Crayons Still Color, Brave Enough to Be Broken will show you how to bravely process your brokenness so that you can experience the fullness of God's restoration power.
Many of us feel the pressure to be perfect, but what we really want is the freedom to be broken. We long to hear that our brokenness doesn't discount us, and we want a way out of the pain that threatens to overwhelm us.
Toni shares practical steps and biblical wisdom to help you stand in your brokenness and experience healing. No perfection required.
You'll learn how to
Overcome shame and other inner obstacles blocking you from healing
Recognize the harmful effects of trauma and toxic relationships on your mental health
Embrace your brokenness so you can help others do the same
Hear the voice of Jesus saying "you ARE worthy" when you don't feel it
Accept the unconditional love of Jesus when you surrender your brokenness
Brave Enough to Be Broken will guide you to the hope that is found in pain and the beauty that exists in brokenness. It's an invitation to reclaim the wholeness and freedom waiting for you in the fullness of God's purpose for your life.
When healing past traumas and praying for hope to come, it can be easy to get discouraged. In Brave Enough to be Broken, Toni gives a roadmap that guides you to healing and hope while her spunky and raw approach to writing helps you not feel alone along the way! - Rebekah Lyons, Bestselling Author of Rhythms of Renewal?
Toni Collier is the founder of Broken Crayons Still Color, an international women's ministry that helps women process their brokenness and reclaim hope. She is a speaker, host of the Still Coloring podcast, and author of Brave Enough to Be Broken and a children's book, Broken Crayons Still Color. Toni and her husband, Sam, live in Atlanta with their daughter, Dylan, and son, Sam Jr.