Grandma Kisses and Hugs
Spiral-Bound |
Laura Neutzling, Cee Biscoe (Illustrated by)
Rebinding by Spiralverse™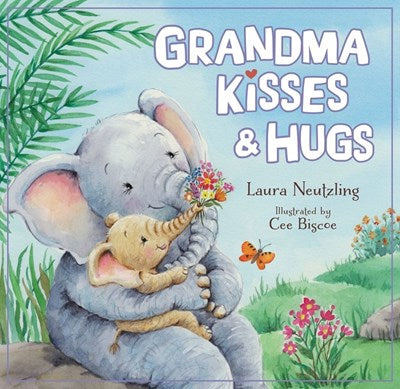 An expanded picture book edition of the bestselling Grandma Kisses by Laura Neutzling and Cee Biscoe, Grandma Kisses and Hugs celebrates the joys of being with Grandma, from baking cookies to reading Bible stories together to snuggling before bed!
An expansion of the popular board book Grandma Kisses that has sold over 300,000 copies, this picture book is ideal for grandmas who live nearby or far away, as well as for any child who loves the memories and the anticipation of time with Grandma.
Grandmas and their grandchildren will love the rhyming stanzas and gentle illustrations of all the special activities grandmas and their little ones can do together, from baking cookies to reading Bible stories together to snuggling before bed.
Grandma Kisses and Hugs is:
Great for ages 4-8
A beautiful picture book with an embellished cover, colorful illustrations, and meaningful references to faith
Perfect as a gift from a grandma to a child or child to a grandma
A lovely way for a grandma to build bonds with grandchildren and to remind them of her love
Grandmas and their grandkids will giggle, snuggle, and enjoy how much they love each other as they journey through a fun day of activities all the way to bedtime prayers in Grandma Kisses and Hugs.
Laura Neutzling has spent most of her career in entertainment, leading marketing and branding efforts of Warner Brothers Music and DreamWorks Animation. She has created marketing copy, taglines, presentations, and award-winning live events all the way from concept to production. As her marketing career transitioned to animated children's productions, she moved into writing scripts, discussion guides, and books. Laura originally hails from San Antonio, Texas, but called Nashville, Tennessee, home for nearly twenty years. A devoted aunt to five nephews and a niece, she currently resides with her husband in Sarasota, Florida, where she runs a marketing consulting business and works on her various writing projects.