God's Purpose for Your Life: 365 Devotions
Spiral-Bound |
Charles F. Stanley
Rebinding by Spiralverse™
★★★★☆+ from 101 to 500 ratings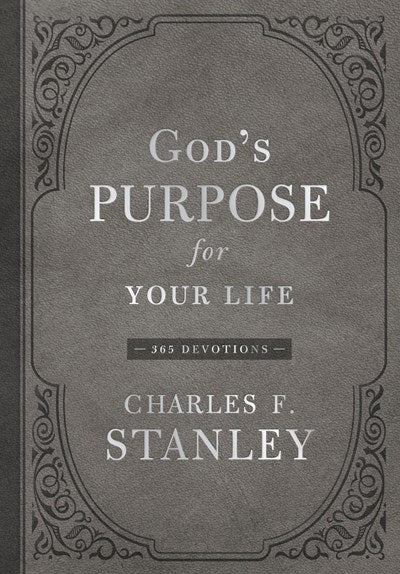 New from trusted pastor Dr. Charles F. Stanley, God's Purpose for Your Life is a 365-day devotional that reminds us of God's redemptive work and the mighty ways He intervenes in our lives.
How can you rest in the truth that God has a purpose for you, a purpose He promises to fulfill? How can you know you are following God's will? In this yearlong devotional, God's Purpose for Your Life, Dr. Charles F. Stanley shows you that God's plans for you are even more wonderful than you can imagine.
Throughout this beautiful book, you will feel empowered to make godly goals and joyfully obey God's Word as Dr. Stanley gives you assurance, comfort, and boldness in your relationship with Christ. Each day offers:
a Scripture reading
a thoughtful application from Dr. Stanley
a brief prayer
This handsome 365-day devotional has a presentation page making it perfect for gifting and a ribbon marker to keep your place. God's Purpose for Your Life is a perfect gift for men and women for:
Graduation
Christmas
Father's and Mother's Day
Birthdays
Whether in a season of fruitfulness or a season of drought, you will love Dr. Stanley's wise, inspiring teaching as you discover day by day what it means to live a life of purpose.
Dr. Charles F. Stanley was the founder of In Touch Ministries and pastor emeritus of First Baptist Church Atlanta, Georgia, where he served more than fifty years. He was also a New York Times bestselling author of more than seventy books. Until his death in 2023, Dr. Stanley's mission was to get the gospel to "as many people as possible, as quickly as possible, as clearly as possible, as irresistibly as possible, through the power of the Holy Spirit to the glory of God." This is a calling that In Touch Ministries continues to pursue by transmitting his teachings as widely and effectively as possible.
Dr. Stanley's messages can be heard daily on In Touch with Dr. Charles Stanley broadcasts on television, radio, and satellite networks and stations around the world; on the internet at intouch.org and through In Touch+; and via the In Touch Messenger Lab. Excerpts from Dr. Stanley's inspiring messages are also published in the award-winning In Touch devotional magazine.