A Mind for Sales: Daily Habits and Practical Strategies for Sales Success
Spiral-Bound |
Mark Hunter, CSP
Rebinding by Spiralverse™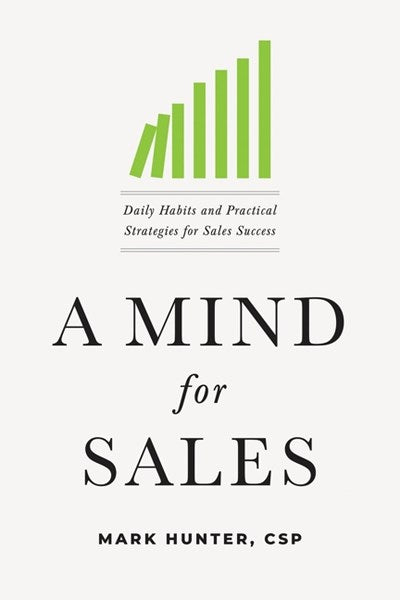 For salespeople feeling stressed and disappointed that their customers don't want to hear from them, this guide is the key to developing the mindset and habits required to reach a new level of sales success.
The world of sales can be tough, so it's easy to get discouraged when the rejections start piling up and your customers stop answering the phone. This allows the wrong thought patterns to start developing, soon you aren't making quotas and then you begin looking at job listings waiting for your next downfall.
Sales expert Mark Hunter can relate as his start to sales was discouraging. The lessons he's learned throughout his career are revealed in A Mind for Sales. He discovered that sales can be incredibly rewarding, such as customers calling you for advice, thanking you for improving their business, and referring you to colleagues. The difference is simply developing mindset and momentum habits.
In A Mind for Sales, you'll learn how to:
Feel energized by renewed purpose and success in your sales role by following the success cycle approach.
Receive practical strategies on how to change your mindset and succeed in sales.
Learn the daily habits needed to maximize productivity and make hitting the ground running strategy #1.
Gain real-world insights from Hunter's vast experience as a successful sales professional and sales coach.
Let this book inspire and prepare you to form the new habits you need to succeed and to realize the incredible rewards that a successful life in sales makes possible.
Mark Hunter, known as, "The Sales Hunter," is globally recognized for his expertise in sales leadership. He specializes in business development and guiding organizations to find and retain high-quality prospects without discounting their fee. His ability to inspire sales teams to create self motivating and integrity driven cultures, makes Mark Hunter a highly sought after keynote speaker, consultant and coach. Mark has taken his vision for sales leadership to more than 25 countries and 5 continents where he leads and consults with companies ranging from small startups to global giants.