Star Wars: The High Republic:: Midnight Horizon
Spiral-Bound | February 1, 2022
Daniel José Older
Rebinding by Spiralverse™
★★★☆☆+ from 1,001 to 10,000 ratings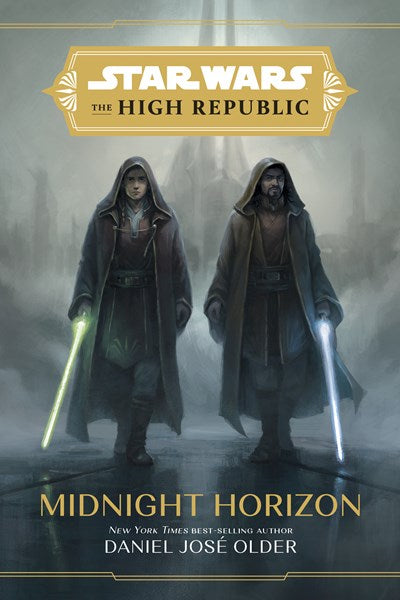 Centuries before the events of Star Wars: The Phantom Menace, in the era of the glorious High Republic, the Jedi are the guardians of peace and justice in the galaxy!


After a series of staggering losses, the Republic seems to finally have the villainous Nihil marauders on the run, and it looks like there's light at the end of the tunnel. Until word comes of a suspected Nihil attack on the industrial cosmopolitan world of Corellia, right in the Galactic Core.

Sent to investigate are Jedi Masters Cohmac Vitus and Kantam Sy, along with Padawans Reath Silas and Ram Jomaram, all fighting their own private battles after months of unrelenting danger. On Corellia, Reath and Ram encounter a brazen young security specialist named Crash, whose friend was one of the victims of the Nihil attack, and they team up with her to infiltrate Corellia's elite while the Masters pursue more diplomatic avenues. But going undercover with Crash is more dangerous than anyone expected, even as Ram pulls in his friend Zeen to help with an elaborate ruse involving a galactic pop star.

But what they uncover on Corellia turns out to be just one part of a greater plan, one that could lead the Jedi to their most stunning defeat yet….

The New York Times best-selling series continues.... For light and life!
"Star Wars: The High Republic is your new Star Wars obsession."—SlashFilm

Daniel José Older, a lead story architect for Star Wars: The High Republic, is the New York Times best-selling author of the upcoming Young Adult fantasy novel Ballad & Dagger (book 1 of the Outlaw Saints series), the sci-fi adventure Flood City, the monthly comic series The High Republic Adventures. His other books include the historical fantasy series Dactyl Hill Squad, The Book of Lost Saints, the Bone Street Rumba urban fantasy series, Star Wars: Last Shot, and the Young Adult series the Shadowshaper Cypher, including Shadowshaper, which was named one of the best fantasy books of all time by TIME magazine and one of Esquire's 80 Books Every Person Should Read. He won the International Latino Book Award and has been nominated for the Kirkus Prize, The World Fantasy Award, the Andre Norton Award, the Locus, and the Mythopoeic Award. He co-wrote the upcoming graphic novel Death's Day. You can find more info and read about his decade long career as an NYC paramedic and hear his music at http://danieljoseolder.net, as well as on YouTube, @djolder on Twitter, @danieljose1 on Instagram, and @danieljoseolder on TikTok. He lives with his wife and son in New Orleans.