Lally's Game: An AFK Book (Five Nights at Freddy's: Tales from the Pizzaplex #1)
Spiral-Bound | July 19, 2022
Scott Cawthon, Kelly Parra, Andrea Waggener
Rebinding by Spiralverse™
★★★☆☆+ from 101 to 500 ratings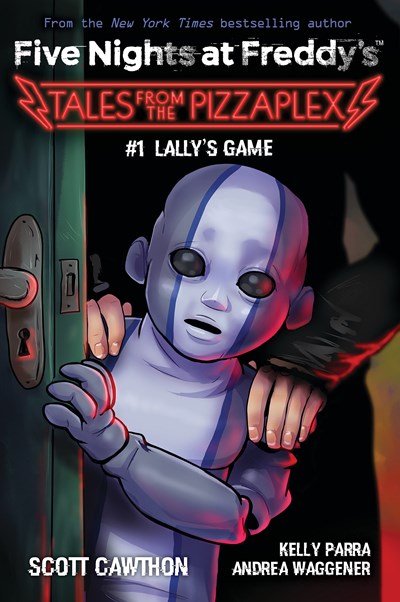 Five Nights at Freddy's fans won't want to miss this collection of three chilling stories that will haunt even the bravest FNAF player...
Some secrets are better left hidden . . . A forbidden artifact from her fiancé's past beckons to Selena. Jessica leads a double-life from her friends and coworkers in the children's wing of a hospital. Maya can't resist the temptation to explore an off-limits area of Freddy Fazbear's Mega Pizzaplex. But in the world of Five Nights at Freddy's, everything comes with a price to pay.
In this first volume, Five Nights at Freddy's creator Scott Cawthon spins three sinister novella-length tales from uncharted corners of his series' canon.
Readers beware: This collection of terrifying tales is enough to rattle even the most hardened Five Nights at Freddy's fans.
Scott Cawthon is the author of the bestselling video game series Five Nights at Freddy's, and while he is a game designer by trade, he is first and foremost a storyteller at heart. He is a graduate of The Art Institute of Houston and lives in Texas with his family.
Andrea Rains Waggener is an author, novelist, ghostwriter, essayist, short story writer, screenwriter, copywriter, editor, poet, and a proud member of Kevin Anderson & Associates' team of writers. In a past she prefers not to remember much, she was a claims adjuster, JCPenney's catalogue order-taker (before computers!), appellate court clerk, legal writing instructor, and lawyer. Writing in genres that vary from her chick-lit novel, Alternate Beauty, to her dog how-to book, Dog Parenting, to her self-help book, Healthy, Wealthy, & Wise, to ghostwritten memoirs to ghostwritten YA, horror, mystery, and mainstream fiction projects, Andrea still manages to find time to watch the rain and obsess over her dog and her knitting, art, and music projects. She lives with her husband and said dog on the Washington Coast, and if she isn't at home creating something, she can be found walking on the beach.
Kelly Parra is the author of YA novels Graffiti Girl, Invisible Touch, and other supernatural short stories. In addition to her independent works, Kelly works with Kevin Anderson & Associates on a variety of projects. She resides in Central Coast, California with her husband and two children.