Miles Morales: Stranger Tides (Original Spider-Man Graphic Novel)
Spiral-Bound | November 1, 2022
Justin A. Reynolds, Pablo Leon (Illustrated by)
Rebinding by Spiralverse™
★★★☆☆+ from 101 to 500 ratings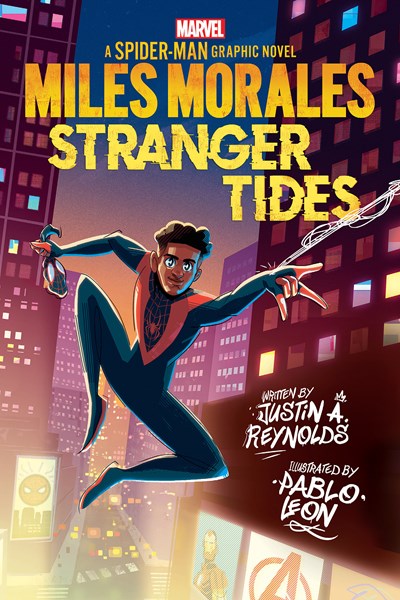 An original middle-grade graphic novel from Graphix starring Miles Morales, by bestselling author Justin A. Reynolds and Eisner nominee Pablo Leon!
Join MIles Morales in his most epic adventure yet!
Miles Morales has just about gotten used to this being Spider-Man thing. Keeping Brooklyn safe, taking down bad guys, and finishing his homework—he's got this! But when Spider-Man is invited to a launch for a brand-new video game, things go sideways fast. Anyone who plays the game is frozen, and it's all because of a villain named the Stranger. He's judged humanity and found it lacking, and his idea of justice is extreme.
Left with the fate of the world in his hands, and the clock is ticking on Miles. Can he turn old foes to friends and find the answers he needs in time?
Praise for Miles Morales: Shock Waves
2021 American Librarian Association Best Graphic Novels For Children Reading List
"Rising star Reynolds draws on devastating real-life experiences to relate how the teenage Afro-Latinx superhero must discover a renewed balance of self even as he negotiates his immense responsibilities… At its heart, the story lifts up the real-world consequences of a series of natural disasters to the proud people of Puerto Rico, challenging us all to recognize our shared responsibility. Big heart and enduring life lessons make this a cherished addition to a viral character's legacy. -- Kirkus, starred review
"Reynolds delivers a well-balanced story with action, relationships, and humor. Those who enjoyed Jerry Craft's New Kid or Jason Reynolds's Miles Morales: Spider-Man will devour this graphic novel addition to the Spiderverse in one sitting; it also works as a stand-alone" – School Library Journal
PABLO LEON is an artist and designer whose clients include Warner Brothers Animation, OddBot Inc, Puny Entertainment, Bento Box Entertainment, and more. His original comic story The Journey, about the true accounts of people migrating from Latin America to the US, was a 2019 Eisner Award nominee. He lives in Los Angeles, California.
JUSTIN A. REYNOLDS has always wanted to be a writer. Opposite of Always, his debut novel, was an Indies Introduce selection, a School Library Journal Best Book, has been translated in 17 languages, and is being developed for film with Paramount Players. He hangs out in northeast Ohio with his family and likes it, and is probably somewhere, right now, dancing terribly.