Wonky Donkey's Big Surprise (A Wonky Donkey Book)
Spiral-Bound | December 7, 2021
Craig Smith, Katz Cowley (Illustrated by)
Rebinding by Spiralverse™
★★★☆☆+ from 101 to 500 ratings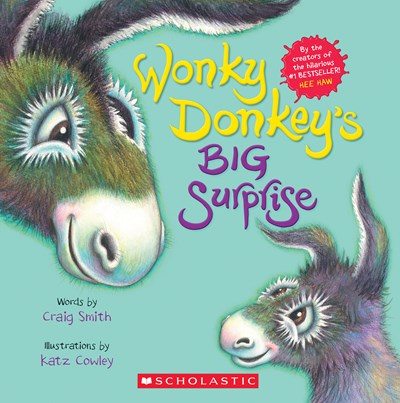 From the internationally bestselling creators of The Wonky Donkey comes a special surprise!
Dinky woke one weekend with wonder in her eyes.
Today her daddy, Wonky, promised such a big surprise...
Another sequel to the viral sensation, The Wonky Donkey, is here! Join the world's #1 bestselling family of laughable and lovable donkeys in a wild, wonky, and wonderful guessing game.
Brought to life by Craig Smith's signature playful verses and Katz Cowley's charming illustrations, Wonky Donkey's Big Surprise is laugh-out-loud fun.
Praise for The Dinky Donkey:
★ "Should be packaged with an oxygen supply, as it will incontestably elicit uncontrollable gales of giggles." -- Kirkus Reviews, starred review
Katz Cowley is an illustrator and teacher who leads workshops in drawing, creative journaling, and self-expression.
Craig Smith is the recipient of the 2008 APRA Children's Song of the Year for The Wonky Donkey. When not writing, Craig works as a musician and entertainer. Visit him at craigsmith.co.nz.