You're Making Me Six: A Graphic Novel (Catwad #6)
Spiral-Bound | November 2, 2021
Jim Benton, Jim Benton (Illustrated by)
Rebinding by Spiralverse™
★★★★☆+ from 101 to 500 ratings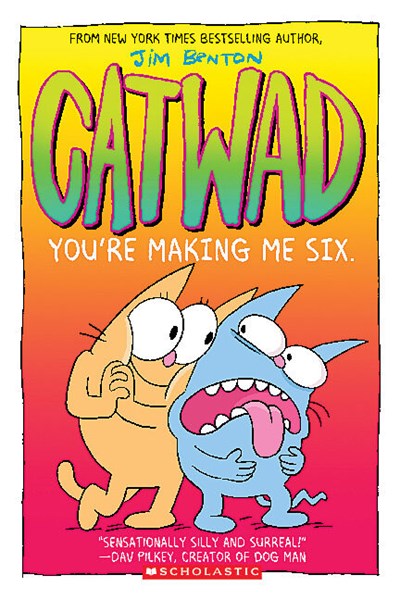 It's Sixth time's the charm!
Catwad and Blurmp venture out of the living room and into the world in this hilarious graphic novel! Attending a comic convention, taking a swim deep inside a toilet bowl, gazing into the future with Blurmp's crystal ball, shredding on guitar, and horseback riding are just a few adventures in this laugh-out-loud collection. It's the zaniest Catwad yet!
Praise for It's Me (Catwad)
"Throughout, humorous prose and bright illustrations by Benton (the Dear Dumb Diary series) add to the amusement for each tale... younger readers in particular are sure to enjoy Catwad and Blurmp's friendship." -- Publishers Weekly
"The full-color comics show the two wildly expressive cats on plain or patterned backgrounds, Catwad with a perpetual frown and Blurmp with a vapid grin... preteens will be onboard immediately and asking for the next volume at the close of this short collection." -- Kirkus Reviews
An American Library Association 2023 Graphic Novels & Comics Round Table (GNCRT) Best Graphic Novels for Children Reading List Selection
Jim Benton is an award-winning author and artist. You may know some of the other things he's made, like It's Happy Bunny, Dear Dumb Diary, Franny K. Stein, Victor Shmud, and more. He's created a TV series, written books, and produced a movie, and he always did everything his parents told him to do. Pretty much. Jim lives in Michigan with his wife and kids and can be found online at jimbenton.com.