The Poodle of Doom: A Branches Book (Pets Rule! #2)
Spiral-Bound | October 4, 2022
Susan Tan, Wendy Tan Shiau Wei (Illustrated by)
Rebinding by Spiralverse™
★★★☆☆+ from 31 to 100 ratings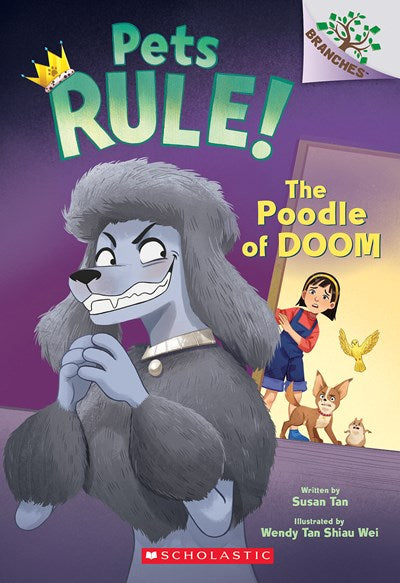 Ember and the other neighborhood pets face their toughest enemy yet: an evil mastermind poodle, named FLUFFY!
Pick a book. Grow a Reader!
This series is part of Scholastic's early chapter book line, Branches, aimed at newly independent readers. With easy-to-read text, high-interest content, fast-paced plots, and illustrations on every page, these books will boost reading confidence and stamina. Branches books help readers grow!
Ember is one step closer to achieving his goal of world domination. But first, he needs to take down a new enemy: Fluffy the poodle, who belongs to Lucy's grandmother Poh Poh. Fluffy has evil plans of his own, including building a doomsday machine that will hypnotize humans. Does Ember have what it takes to outsmart this evil genius? This story culminates with the ultimate battle—a rock-and-roll DANCE battle!
With laugh-out-loud humor, engaging artwork on every page, and nonstop action that will have readers rushing to turn the pages, Pets Rule is the just-right series for any emerging reader!
Praise for Pets Rule #1: My Kingdom of Darkness:
"This early chapter book expertly cultivates a larger-than-life pseudo-antihero... an infectiously silly series starter." --Kirkus Reviews
Praise for Cilla Lee-Jenkins: Future Author Extraordinaire:
* "Cilla's empathy, candor, and skill at turning a phrase indicates that her claim to be a future author extraordinaire is completely justified . . . Anyone who spends time with Cilla Lee-Jenkins will look forward to reading her in the future." — Booklist, starred review
"Heartwarming and poignant! Meeting Cilla felt like making a new best friend. I can't wait to share the book with my own daughter." —Grace Lin, bestselling author of Newbery Honor book Where the Mountain Meets the Moon and National Book Award finalist When the Sea Turned to Silver
"Tan writes in a fun and spunky voice that brings to mind favorite characters such as Junie B. Jones, Ramona Quimby, and Fancy Nancy but is still all her own . . . Readers will identify with Cilla and wish they were friends with her in real life." — School Library Journal
"In Tan's debut novel… readers will meet spunky 8 ½ year old Cilla, who is 50% Chinese, 50% Caucasian and I think 100% wonderful… I suspect young readers will want to reach into the pages and hug her!" —Rachel Renee Russell writing for Amazon's Omnivoracious, bestselling author of The Dork Diaries
SUSAN TAN has lived in many places in her life, but calls Concord, Massachusetts, home. After studying at Williams College, she earned her PhD from the University of Cambridge, where she studied children's literature. She currently lives in Somerville, enjoys frequent trips to Chinatown to eat tzuck sang, and teaches at the University of Massachusetts, Boston. Susan is the author of the Cilla Lee-Jenkins chapter book series, and the Pets Rule! series.
WENDY TAN SHIAU WEI is a visual development and storyboard artist for animated series, advertising, and films, and an illustrator for children's books and publishing. Her work can be seen in TV commercials, radio stations, advertisements, shows, publishing, and fashion. Wendy loves telling stories through her work; storyboarding and comics are two of the ways she expresses her thoughts and feelings. She lives in Kuala Lumpur, Malaysia with her family.