The Getaway
Spiral-Bound | September 20, 2022
Lamar Giles
Rebinding by Spiralverse™
★★★☆☆+ from 1,001 to 10,000 ratings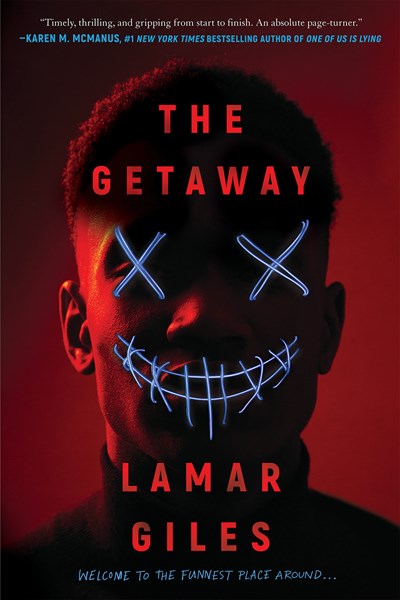 "Timely, thrilling, and gripping from start to finish. An absolute page-turner." --Karen M. McManus, #1 New York Times bestselling author of One of Us Is Lying
Jay is living his best life at Karloff Country, one of the world's most famous resorts. He's got his family, his crew, and an incredible after-school job at the property's main theme park. Life isn't so great for the rest of the world, but when people come here to vacation, it's to get away from all that.
As things outside get worse, trouble starts seeping into Karloff. First, Jay's friend Connie and her family disappear in the middle of the night and no one will talk about it. Then the richest and most powerful families start arriving, only... they aren't leaving. Unknown to the employees, the resort has been selling shares in an end-of-the-world oasis. The best of the best at the end of days. And in order to deliver the top-notch customer service the wealthy clientele paid for, the employees will be at their total beck and call.
Whether they like it or not.
Yet Karloff Country didn't count on Jay and his crew--and just how far they'll go to find out the truth and save themselves. But what's more dangerous: the monster you know in your home or the unknown nightmare outside the walls?
Praise for Lamar Giles
"My twin, Lamar, is a phenomenal innovative storyteller. His thrillers have laid the groundwork for us all. A true king!" --Tiffany D. Jackson, New York Timesbestselling author of Grown and The Weight of Blood
"Lamar Giles's work always has something to say, and it's well worth your while to listen." --Barry Lyga, New York Times bestselling author of I Hunt Killers
"When I think of Lamar Giles's work, I think of the books that make kids love reading. Whether it's through a fantasy adventure or a nuanced YA novel, he offers readers smart characters who face impossible circumstances that will keep them guessing until the end. A Lamar Giles book never disappoints." --Meg Medina, New York Times bestselling author of Burn Baby Burn
Praise for The Getaway
YALSA Top Ten Best Fiction for Young AdultsYALSA Quick Pick for Reluctant Young Adult Readers
"Timely, thrilling, and gripping from start to finish. An absolute page-turner." --Karen M. McManus, #1 New York Times bestselling author of One of Us Is Lying
"The Getaway grabbed me from page one and didn't let go. I was immediately fascinated and disturbed by the fictional Karloff Country. You too will be lured in and then horrified by the truth behind those perfect customer service smiles..." --Malinda Lo, New York Times best selling author of Last Night at the Telegraph Club
★"With hints of Cory Doctorow, Jordan Peele, and Richard Matheson, this book stands on its own as a dystopian adventure, but the deeper metaphors around servitude, privilege, class, and solidarity mean that there's a lot to think about as the characters reckon with their proximity to and complicity in violence both local and far-flung. Hold tight: You'll want to stay on this nightmarish roller coaster till the end." --Kirkus Reviews (starred review)
★"This arresting and engaging dystopian thriller interrogates the horrors of racism, classism, unregulated capitalism and eco-fascism." --Shelf Awareness (starred review)
"Giles's harrowing dystopian novel combines an exploration of capitalistic greed and systemic racism and oppression with gripping psychological horror, resulting in a read that is guaranteed to terrify." --Publishers Weekly "With elements of adventure, science fiction, horror, and even a bit of romance in a broken world, Giles keeps readers wondering who can and cannot be trusted throughout this page-turning novel." --Horn Book
Praise for Spin
A New York Times Book Review Editors' Choice
YALSA Quick Pick for Reluctant Young Adult Readers
"The first test of a whodunit is how heart-stopping and strange a thing has actually been dun. In Spin, Lamar Giles nails the murder...What's even more impressive is the subtle stuff you almost don't notice because Giles wears his intellect so lightly: the masterly knowledge of hip-hop and R&B; the command of technology's uses and abuses; the discerning ear for the way high schoolers talk.... A two-time nominee for an Edgar award, Giles is a terrific plotter...Spin champions the resourcefulness of teenagers and pities the grown-ups--villainous or just clueless--who underestimate them." --New York Times Book Review
* "Not to be missed." --Kirkus Reviews (starred review)
* "Spin delivers everything you could want in a book: lush, complex characters; a spine-chilling plot; a vividly drawn world; and, best of all, hip-hop." --Booklist (starred review)
★ "This novel transcends its genre." --School Library Journal (starred review)
★"This fast-paced tale seizes attention from the first thrown punch to the final curtain call...." --Publishers Weekly (starred review)
"Lamar Giles has spun together a fast-paced, music-forward whodunit..." --School Library Connection
Praise for Overturned
A YALSA Top Ten Quick Pick for Reluctant Young Adult Readers
A Kirkus Best Book of the Year
★"An utterly compelling whodunit." -- Kirkus Reviews, starred review
"Giles, a founding member of We Need Diverse Books and two-time Edgar Award finalist, is in top form, weaving together the threads of his whodunit-and-why and resonantly depicting his characters' home and school lives. As a poker genius Nikki may be a singular sort of teenager, but she's grounded in desires and motivations that make her story as moving as it is thrilling." -- New York Times Book Review
"Another Giles winner." -- BCCB
"A fast-paced, endlessly intriguing mystery." -- Booklist
"Giles excels at pulpy crime drama, including a romance with a wealthy casino heir, scattering a trail of clues and bluffs to keep readers guessing." -- Publishers Weekly
Lamar Giles is the author of The Getaway; Spin which was a New York Times Editors' Choice and a YALSA Quick Pick; Overturned, which was also a YALSA Quick Pick; Not So Pure and Simple; Fake ID, which was an Edgar Award finalist and a YALSA Quick Pick; and Endangered, which was also an Edgar Award finalist. He the editor of the anthology Fresh Ink and has contributed to many other anthologies as well. Lamar is a founding member of We Need Diverse Books. He resides in Virginia with his family.