The Cat Wants Cuddles
Spiral-Bound | July 20, 2021
P. Crumble, Lucinda Gifford (Illustrated by)
Rebinding by Spiralverse™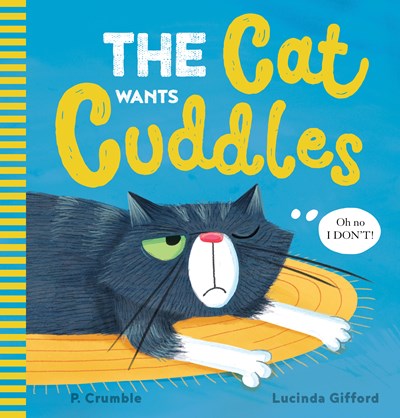 This hilariously grumpy cat absolutely does not want to cuddle and he is not going to change his mind -- or will he? Kevin is a spunky, independent cat who does not want a pat. He does not want a tickle. And he certainly does not want to cuddle. All Kevin wants is to be left ALONE. That is, until he sees Dog getting pet, tickled, and cuddled, and realizes that a little attention might not be so bad. The Cat Wants Cuddles introduces a hilarious cast of characters who kids will love immediately. Full of tongue-in-cheek humor and funny asides, this book is sure to become a kid favorite.
Praise for Cat Wants Cuddles:
"Crumble and Gifford deftly capture a kitty's love/hate relationship with its humans, and their funny take will resonate with human kitty lovers of all ages." -- Kirkus Reviews
P. Crumble is the bestselling author of many humorous children's books including, What the Fluffy Bunny Said to the Growly Bear. He lives in Australia.
Lucinda Gifford is an illustrator who lives in Melbourne, Australia. You can visit her at www.lucindagiffordbooks.com.