We Own the Sky
Spiral-Bound | September 6, 2022
Rodman Philbrick
Rebinding by Spiralverse™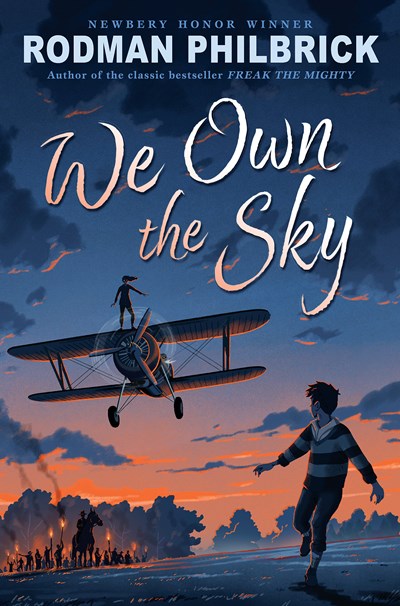 A thrilling historical adventure by the master of adventure himself, Rodman Philbrick.
It's Maine, 1924, and the Ku Klux Klan is on the rise.
Davy and Jo Michaud have been recently orphaned. Taken in by a distant relative—a famous aviator—they are now working with a group of stunt pilots who spend their time wing walking, leaping from plane to plane, and flying through fireworks! But though the stunts are dangerous, the real threat is building behind the scenes.
The KKK is on the rise in Maine that summer, inspired by the racial fears promoted in Birth of a Nation. They spew hatred of immigrants, Blacks, Jews, and French Catholics—that last, a rage that will be directed at Davy and Jo.
When Davy and Jo cross paths with the Klan, they get tangled up in a terrible revenge plan, and held as hostages. Can they escape with their lives?
Praise for We Own the Sky
"Gripping." – Publishers Weekly
"This vivid picture of senseless violence will hit home for today's readers. A timeless, timely, and poignant tale of derring-do." – Kirkus Reviews
"Philbrick's fast-paced, action-packed narrative includes deeper layers of difficult history that still resonate today." –Horn Book Magazine
"The writing and storyline show the strength and resilience of the two main characters and the other adults in their lives. It is also a realistic portrayal of the KKK and the hatred it brought to communities all over the country. Hand this to any student who loves aviation and history. The combination will keep them turning pages until the thrilling conclusion." -- School Library Connection
Praise for Wild River:
An Amazon Best Book of the Month
A Junior Library Guild Selection
"Newbery Honoree Philbrick twines a heartfelt message about teamwork and forgiveness with realistic dangers in this pageturning survival story." — Publishers Weekly
"Impossible to put down. Readers will need to strap on their helmets and prepare for a wild ride." — Kirkus Reviews
Praise for Wildfire:
* "An intense tale of survival and action." — School Library Journal, starred review
* "Short chapters, outstanding cover art, and a breathless pace make this a fine choice for reluctant readers. Outstanding suspense." — Kirkus Reviews, starred review
* "Action lovers will relish every word. With Wildfire—reminiscent of Hatchet and the real-life saga Lost on a Mountain in Maine—Philbrick transforms a raging inferno into an impressively plotted escape story full of heart and soul." — BookPage, starred review
Newbery Honor author Rodman Philbrick has written more than a dozen novels for young readers. In 1993, he published his first children's book, Freak the Mighty, which became an instant classic, and was made into a feature film. The Mostly True Adventures of Homer P. Figg was a 2010 Newbery Honor Book. Philbrick's other acclaimed novels include Max the Mighty, The Young Man and the Sea, The Last Book in the Universe, Zane and the Hurricane, and Wildfire. Philbrick divides his time between Maine and the Florida Keys. You can learn more about him on his website: rodmanphilbrick.com.