I Survived the Nazi Invasion, 1944: A Graphic Novel (I Survived Graphic Novel #3)
Spiral-Bound | February 2, 2021
Lauren Tarshis, Álvaro Sarraseca (Illustrated by)
Rebinding by Spiralverse™
★★★★☆+ from 1,001 to 10,000 ratings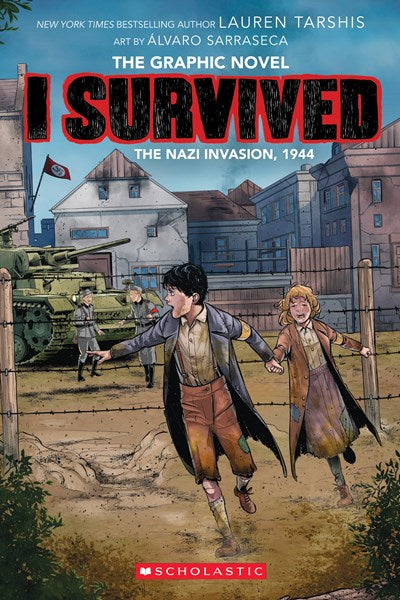 A beautifully rendered graphic novel adaptation of Lauren Tarshis's bestselling
I Survived the Nazi Invasion, 1944
, with text adapted by Georgia Ball and art by Álvaro Sarraseca.
It's been years since the Nazis invaded Max Rosen's home country of Poland. All the Jewish people, including Max's fam­ily, have been forced to live in a ghetto. At least Max and his sister, Zena, had Papa with them . . . until two months ago, when the Nazis took him away. Now Max and Zena are on their own.
One day, with barely enough food to survive, the siblings make a dar­ing escape from Nazi soldiers into the nearby forest. They are found by Jewish resistance fighters, who take them to a safe camp.
But soon, grenades are falling all around them. Can Max and Zena survive the fallout of the Nazi invasion?
With art by Álvaro Sarraseca and text adapted by Georgia Ball, Lauren Tarshis's New York Times bestselling I Survived series takes on vivid new life in this explosive graphic novel edition. Includes nonfiction back matter with historical photos and facts about World War II and the Holocaust.
Perfect for readers who prefer the graphic novel format, or for existing fans of the I Survived chapter book series, I Survived graphic novels combine historical facts with high-action storytelling that's sure to keep any reader turning the pages.
Praise for I Survived the Sinking of the Titanic, 1912: The Graphic Novel:
"The first installment of Tarshis' sprawling prose disaster oeuvre for young readers is reimagined in visually interesting full-color comic panels that support its recognizable thrilling pace and convenient twists. Many of the most exciting scenes are largely wordless, spotlighting the propulsive action amid growing tensions. A fresh and interesting adaptation, making for an easy crowd pleaser." -- Kirkus Reviews
"The original I Survived series already has lots of appeal for emerging readers, but this graphic adaptation of Tarshis' novel not only stays incredibly true to the original story but now provides another format in which to enjoy this high-interest and easily accessible piece of historical fiction. The illustrations nicely complement the plot-driven tone and softly show the historical horror appropriately for a young audience without minimalizing its tragedy... Readers will be poring over the pages to see what happens next, even if they're already familiar with the story." -- Booklist
"Dark, subdued, inky art sets a somber tone, while a parade of mostly small panels builds suspense and promises to engage readers." -- School Library Journal
Praise for Lauren Tarshis's I Survived chapter books:
Praise for I Survived the American Revolution, 1776:
"Tarshis successfully blends historical fact with an involving narrative." -- School Library Journal
Praise for I Survived the Destruction of Pompeii, AD 79:
"Tarshis serves up another gripping adventure... with the light-speed pacing and death-defying maneuvering fans have come to expect." -- Booklist
Praise for I Survived the Battle of Gettysburg, 1863:
"Informative and breathlessly paced." -- Kirkus Reviews
Praise for I Survived the Attacks of September 11, 2001:
"[Tarshis] crafts a dramatic, emotionally intense tale that takes account of 9/11's physical and emotional costs -- short- and long-term -- while ending on an upward beat." -- Kirkus Reviews
Praise for I Survived Hurricane Katrina, 2005:
"Expressive illustrations capture the drama of the storm and its aftermath, but the book's real power comes from its exploration of what it means to be a hero." -- Booklist
Praise for I Survived the Shark Attacks of 1916:
"A gripping story that will hold the interest of reluctant readers." -- School Library Journal
Praise for I Survived the Sinking of the Titanic, 1912:
"The fast pace and intrinsically fascinating disaster story will keep readers turning the pages." -- Kirkus Reviews
Lauren Tarshis's
New York Times
bestselling I Survived series tells stories of young people and their resilience and strength in the midst of unimaginable disasters and times of turmoil. Lauren has brought her signature warmth and exhaustive research to topics such as the battle of D-Day, the American Revolution, Hurricane Katrina, the bombing of Pearl Harbor, and other world events. She lives in Connecticut with her family, and can be found online at laurentarshis.com.
Álvaro Sarraseca has worked as a magazine cartoonist and graphic novel artist. He has contributed artwork to franchises such as Dragon Age, Jurassic World, and Red Sonja and Vampirella Meet Betty and Veronica, among others. He lives in Madrid, Spain, and can be found online at alvarosarraseca.daportfolio.com.