Jurassic Peck: A Branches Book (Kung Pow Chicken #5)
Spiral-Bound | September 15, 2020
Cyndi Marko, Cyndi Marko (Illustrated by)
Rebinding by Spiralverse™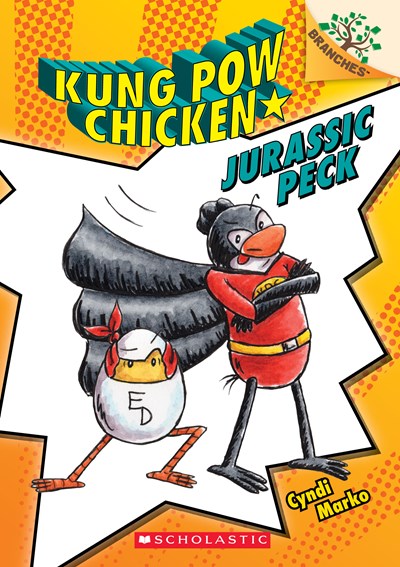 Everyone's favorite crime-fighting superhero chicken is back!Pick a book. Grow a Reader!This series is part of Scholastic's early chapter book line, Branches, aimed at newly independent readers. With easy-to-read text, high-interest content, fast-paced plots, and illustrations on every page, these books will boost reading confidence and stamina. Branches books help readers grow!In the fifth installment of this action-packed full-color series, heroes Kung Pow Chicken, Egg Drop, and Beak Girl go back in time to save the future! A mishap in Professor Quack's lab sends the team to dino times, where they encounter an evil chicken who wants to bring dinosaurs back to the future -- and take over Fowladelphia! With help from a new dinosaur friend, the heroes get to work. Will they make it home in time for dinner?
Praise for Let's Get Cracking! (Kung Pow Chicken #1):An Amazon Best Book of the Month, January 2014* "Marko's debut is a perfectly puntastic page-turner. Hybrids of comics and traditional pictures, the goofy all-color illustrations propel the fast-moving, high-interest story. 'Ham and eggs!' -- you don't want to miss this!" -- Kirkus Reviews, starred review"This hilarious kickoff to the Kung Pow Chicken series [is] just the thing for beginning readers." -- Publishers Weekly"Step aside, Captain Underpants! There is a new hero in town -- this time, with feathers... Fresh, funny, and packed with full-color illustrations, this new transitional series will be an instant hit with readers looking for silly fun and a touch of mystery." -- Booklist"Frequent poultry plays on words are sure to ellicit giggles from young readers. This [series] will have broad appeal among independent readers who have outgrown easy readers but are not yet ready for books relying more on text than illustration." -- School Library JournalPraise for Bok! Bok! Boom! (Kung Pow Chicken #2):An Amazon Big Spring Book, 2014"Plenty of punny action in the colorful mix of comic panels and short paragraphs of text. Fans will be glad Kung Pow has at least two more adventures on the way." -- Kirkus Reviews"Jokes and puns will keep the attention of eager new readers looking for a fast-paced, funny adventure with unlikely superheroes." -- School Library JournalPraise for The Birdy Snatchers (Kung Pow Chicken #3):An Amazon Editor's Pick, Summer 2014
Cyndi Marko writes and draws books for kids, but she doesn't mind if adults read them, too. Cyndi is the author and illustrator of the Kung Pow Chicken early chapter book series, This Little Piggy: An Owner's Manual and Boo! Hiss! early chapter books, and the Sloth Sleuth middle grade graphic novel series. She currently lives in British Columbia, Canada, with her two noisy, freeloading roommates Cathulhu and Salem P. Cat.