Bob Books - Animal Stories Box Set | Phonics, Ages 4 and up, Kindergarten (Stage 2: Emerging Reader)
Spiral-Bound | April 30, 2019
Lynn Maslen Kertell
Rebinding by Spiralverse™
★★★★☆+ from Up to 30 ratings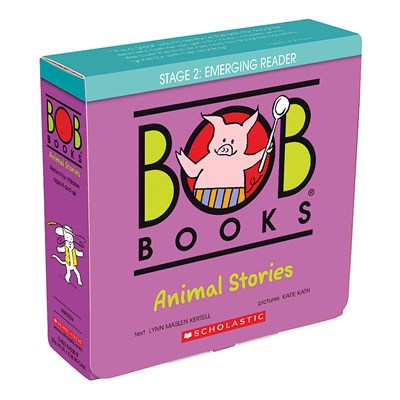 A brand-new Bob Books boxed set featuring 12 easy-to-read stories about silly animal characters, and introducing a new illustrator!
Created by a teacher, Bob Books have been helping children learn to read for more than forty years! This set of phonics-based, easy-to-read stories features silly animal characters -- perfect for kids in kindergarten and first grade.
Bob Books Animal Stories are filled with fun animal characters, from a pig who is a picky eater to a rabbit who loves to dress up. These charming books engage young readers while they practice their reading skills. Each story uses one-syllable words with consistent short vowels, which help keep the text decodable and build kids' confidence. Longer animal names and sight words sprinkled throughout add just the right amount of challenge.
Inside the box you'll find:
12 small, hilarious, easy-to-read books: 12 pages each, 18-28 unique words per book, sized perfectly for little hands
A parent guide with tips for helping your child learn to read
Each book includes:
Decodable text: Mostly three- and four-letter words with short vowels that can be sounded out (eggs, mop, slug)
Simple sentences (Pig has buns and jam.)
Limited sight words (saw, car, mouse)
Friendly, simple illustrations that add fun and do not distract from the words
Guided Reading Levels: C, D, E, F Lexile® Measure: 60L – 270L Bob Books Level: Stage 2
Ages: 4-6 Grade Levels: Kindergarten, First Grade
Bob Books' phonics-based method aligns with the body of research known as the Science of Reading, which proves that systematic phonics instruction is crucial to children's reading success. With simple phonics, playful stories, and silly illustrations, Bob Books keep young readers' confidence high, leading to continued success and a love of reading. Your child will soon join the millions of happy kids who say, "I read the whole book!"®
Praise for Bob Books:
"Bob Books use fool-proof, evidence-based methods to teach kids how to read -- and they're fun!" -- Emily Oster, author of New York Times bestseller Cribsheet and parent of two
"For over a century, Scholastic has partnered with educators and families to support the literacy skills of young readers. These engaging books capture their attention and are rooted in the research on how children learn to read." - Amanda Alexander, Chief Academic Officer, Scholastic Inc.
"Bob Books offer a lighthearted, intelligently conceived introduction to reading..." -- Leonard Marcus, Children's Book Review, Parenting magazine
"...Bob Books turns kids into readers..." -- Kate Kelly, USA Today
"The engaging subtle humor, simple repetitive texts, and uncluttered illustrations in Bob Books entice children to read on their own, building their sight word vocabulary." -- Lee Galda, Professor of Children's and Adolescent Literature, University of Minnesota
"Children are charmed by these happy, offbeat stories and fun drawings." -- Parents magazine
"...Bob Books are best of all for teaching children to read." -- Marguerite Kelly, Family Columnist, Washington Post
"Bob Books made our children into avid readers. Best investment I ever made." -- The Lewiston Tribune
Katie Kath has illustrated several picture and middle grade books, some of which have been recognized by the Bank Street College of Education & Children's Book Committee, the New York Public Library, the Children's Book Council, and the Junior Library Guild. You can visit her online at ktkath.com.
Lynn Maslen Kertell is the current manager of Bob Books® and the author of the Bob Books learn-to-read sets More Beginning Readers, Sight Words: Kindergarten, Sight Words: First Grade, Rhyming Words, First Stories, and Animal Stories; and the Bob Books Stories series. You can visit her online and learn more about Bob Books at bobbooks.com.