Sunny Rolls the Dice: A Graphic Novel (Sunny #3)
Spiral-Bound | October 1, 2019
Jennifer L. Holm, Matthew Holm (Illustrated by)
Rebinding by Spiralverse™
★★★★☆+ from 1,001 to 10,000 ratings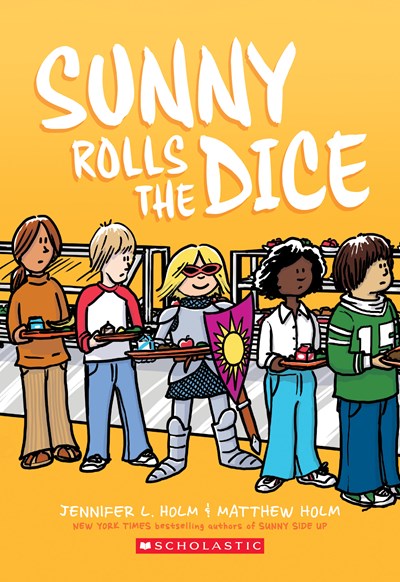 From the award-winning duo of Jennifer and Matthew Holm comes the third book in the bestselling Sunny series, Sunny Rolls the Dice -- full of heart, laughs, and adventure!Too cool for school . . . or the least groovy girl in the grade?Sunny's just made it to middle school . . . and it's making her life very confusing. All her best friend Deb wants to talk about is fashion, boys, makeup, boys, and being cool. Sunny's not against any of these things, but she also doesn't understand why suddenly everything revolves around them. She's much more comfortable when she's in her basement, playing Dungeons & Dragons with a bunch of new friends. Because when you're swordfighting and spider-slaying, it's hard to worry about whether you look cool or not. Especially when it's your turn to roll the 20-sided die. Trying hard to be cool can make you feel really uncool . . . and it's much more fun to just have fun. Sunny's going to find her groove and her own kind of groovy, with plenty of laughs along the way.
Praise for Sunny Side Up:"Heartbreaking and hopeful, Sunny Side Up is just the thing to chase away the clouds." --Raina Telgemeier, creator of Smile and Sisters* "A humorous yet emotional story with a memorable protagonist and detailed full-color art that make this a perfect choice for fans of Raina Telgemeier." -- School LIbrary Journal, starred review* "The Holms tell this poignant, multi-threaded story with great warmth and humor, and exquisite comic timing." -- Shelf Awareness for Readers, starred reviewPraise for Swing It, Sunny:* "Fans of Sunny Side Up will adore this sequel, which provides enough background for new readers to jump right in." -- School LIbrary Journal, starred review* "Poignant and hilarious in turn and emotionally rich throughout. Another radiant outing." -- Kirkus Reviews, starred review
Jennifer L. Holm is the New York Times bestselling and three-time Newbery Honor-winning author of multiple novels for young readers. With her brother Matthew, Jennifer created the graphic novel series Babymouse and Squish. She lives in California.
Matthew Holm was born and raised in the suburbs of Philadelphia, Pennsylvania, and has been drawing comics since he was in middle school. With his sister, Jennifer, Matthew created the graphic novel series Babymouse and Squish. He lives in upstate New York.