The Rooster Bar: A Novel
Spiral-Bound | June 19, 2018
John Grisham
Rebinding by Spiralverse™
★★★☆☆+ from 50,001 + ratings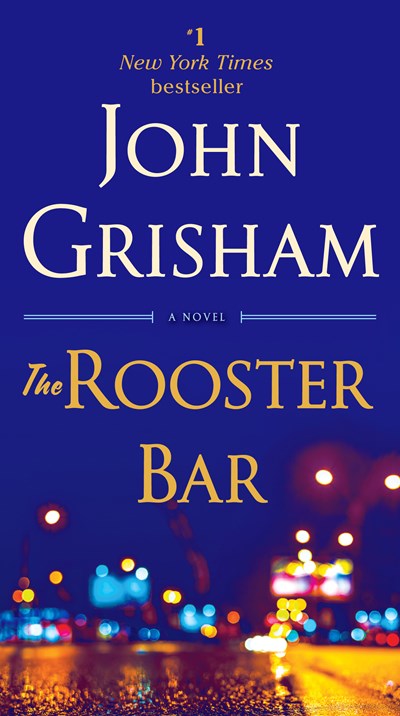 #1 NEW YORK TIMES BESTSELLER • John Grisham's newest legal thriller takes you inside a law firm that's on shaky ground.

Mark, Todd, and Zola came to law school to change the world, to make it a better place. But now, as third-year students, these close friends realize they have been duped. They all borrowed heavily to attend a third-tier, for-profit law school so mediocre that its graduates rarely pass the bar exam, let alone get good jobs. And when they learn that their school is one of a chain owned by a shady New York hedge-fund operator who also happens to own a bank specializing in student loans, the three know they have been caught up in The Great Law School Scam.

But maybe there's a way out. Maybe there's a way to escape their crushing debt, expose the bank and the scam, and make a few bucks in the process. But to do so, they would first have to quit school. And leaving law school a few short months before graduation would be completely crazy, right? Well, yes and no ...

Pull up a stool, grab a cold one, and get ready to spend some time at The Rooster Bar.

Don't miss John Grisham's new book, THE EXCHANGE: AFTER THE FIRM, coming soon!
"[A] buoyant, mischievous thriller . . . Grisham writes in such an inventive spirit. . . . A treat."—Janet Maslin, The New York Times

"Satisfying . . . Grisham [is] at his best when he brings his sardonic sense of humor to the sometimes questionable ethics of law and banking."—USA Today

"[A] smartly told tale . . . gratifying and all-too-real."—The Washington Post
John Grisham is the author of forty-seven consecutive #1 bestsellers, which have been translated into nearly fifty languages. His recent books include The Judge's List, Sooley, and his third Jake Brigance novel, A Time for Mercy, which is being developed by HBO as a limited series.

Grisham is a two-time winner of the Harper Lee Prize for Legal Fiction and was honored with the Library of Congress Creative Achievement Award for Fiction.

When he's not writing, Grisham serves on the board of directors of the Innocence Project and of Centurion Ministries, two national organizations dedicated to exonerating those who have been wrongfully convicted. Much of his fiction explores deep-seated problems in our criminal justice system.

John lives on a farm in central Virginia.