Broken: A Novel
Spiral-Bound | March 1, 2016
Karin Slaughter
Rebinding by Spiralverse™
★★★★☆+ from 50,001 + ratings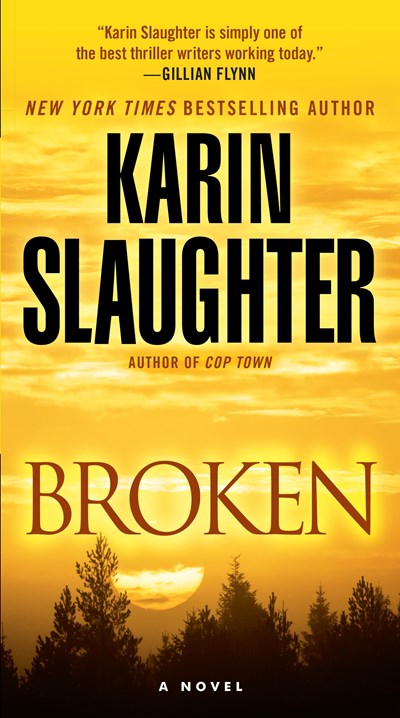 "Karin Slaughter is simply one of the best thriller writers working today."—GILLIAN FLYNN

"This chilling mystery is just begging to be read in one sitting."—Cosmopolitan

WATCH WILL TRENT ON ABC • This edition features an introduction on the origins of the New York Times bestselling Will Trent novels

Karin Slaughter's internationally bestselling novels are as notable for their vivid portraits of lives shadowed by loss and heartbreak as they are for their dramatic criminal investigations. Broken features the return of her most compelling characters and introduces memorable new ones in a tale of corruption, murder, and confrontation that will leave more than one life . . .

When Special Agent Will Trent arrives in Grant County, he finds a police department determined to protect its own and far too many unanswered questions about a prisoner's death. He doesn't understand why Officer Lena Adams is hiding secrets from him. He doesn't understand her role in the death of Grant County's popular police chief. He doesn't understand why that man's widow, Dr. Sara Linton, needs him now more than ever to help her crack this case.

While the police force investigates the murder of a young woman pulled from a frigid lake, Trent investigates the police force, putting pressure on Adams just when she's already about to crack. Caught between two complicated and determined women, trying to understand Linton's passionate distrust of Adams, the facts surrounding Chief Tolliver's death, and the complexities of this insular town, Trent will unleash a case filled with explosive secrets—and encounter a thin blue line that could be murderous if crossed.

Spellbinding and keenly paced, Broken is Karin Slaughter at her best. Here is an unforgettable story of raw emotions, dangerous assumptions, the deadly and layered game of betrayal, and a man's determination to expose the most painful of human truths—no matter how deeply they're hidden . . . or how devastating.
"Addictive . . . Slaughter is a terrific writer, and she keeps the emotional tension high throughout."—The Atlanta Journal-Constitution

"This chilling mystery is just begging to be read in one sitting."—Cosmopolitan

"Move over, Catherine Coulter—Slaughter may be today's top female suspense writer."—Library Journal (starred review)
Karin Slaughter is the New York Times and #1 internationally bestselling author of numerous thrillers, including Cop Town, Unseen, Criminal, Fallen, Broken, Undone, Fractured, Beyond Reach, Triptych, Faithless, and the e-original short stories "Snatched" and "Busted." She is a native of Georgia.