Swallows and Amazons: Swallows & Amazons 1
Spiral-Bound | July 16, 2010
Arthur Ransome
Rebinding by Spiralverse™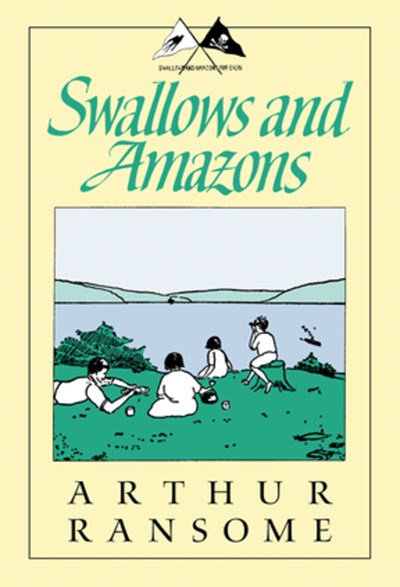 Friendship, resourcefulness, adventures! Here's the classic tale of two families of children who band together against a common foe: an uncle who claims he's too busy for his nieces.

The Walker children (John, Susan, Titty and Roger) are on school holiday in the Lake District and are sailing a borrowed catboat named "Swallow," when they meet the Blackett children (Nancy and Peggy), who sail the boat, "Amazon." The children camp together on Wild Cat Island where a plot is hatched against the Blackett's Uncle Jim who is too busy writing his memoirs to be disturbed.

Fireworks—literally—ensue along with a dangerous contest, a run-in with houseboat burglars, and the theft of Uncle Jim's manuscript. How all this is resolved makes for an exciting and very satisfying story. Uncle Jim ends up apologizing for missing his nieces' adventures all summer—thankfully, readers won't miss a thing.

Arthur Ransome's Swallows and Amazons series has stood the test of time. More than just great stories, each one celebrates independence and initiative with a colorful, large cast of characters. Like the entire series that follows, this book is for children or grownups, anyone captivated by a world of adventure and imagination, exploring and setting sail.
"Clean and lively prose, with an earnest whimsy…The 12 books in the series are justly ranked as classics, standing with the children's stories of Kipling, Barrie and Grahame."—The Telegraph

"The author really does know how to write for children: in other words, he writes of what he himself delights in and so pleases without any effort both young and old."—The Nation

"This book is both silvery present and golden retrospect. All that is tedious and sullen and deceptive vanishes in its sunniness as clouds vanish in the tempered air of a summer day. . . We think that the book will last, too, from edition unto edition."—Saturday Review

"There is plenty of excitement, a little danger, a quality of thinking, planning and fun which is delightful and stimulating."—Times Literary Supplement

"He makes a tale of adventure a handbook to adventure."—The Observer

"For those who regret the hemming-in of childhood, the Swallows and Amazons are free-range children to gladden the heart."—The Wall Street Journal
Arthur Ransome spent his childhood in England's Lake District, and after a career in journalism that took him to Russia (where he married Trostsky's secretary), China, and Egypt (interspersed with summers of cruising through the Baltic Sea and the canals of Europe), he retired to Coniston where he could practice his favorite pastimes of sailing and fishing and where he wrote the Swallows and Amazons series.