Rattan: A World of Elegance and Charm
Spiral-Bound | October 6, 2020
Lulu Lytle, Mitchell Owens (Foreword by)
Rebinding by Spiralverse™
★★★★☆+ from Up to 30 ratings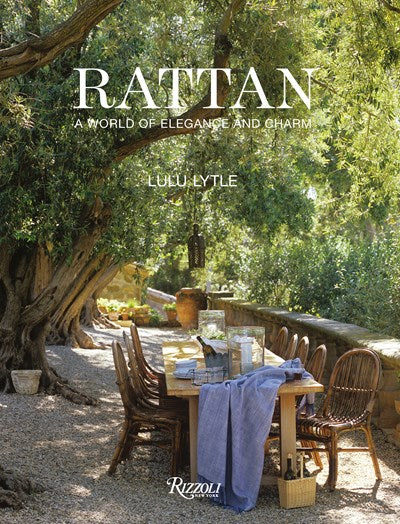 Rattan furnishings evoke the glamour and laid back elegance of exotic beach houses as well as the informal beauty of plant filled garden rooms and sun dappled verandas.

Long fascinated with rattan's versatility, designer Lulu Lytle examines the enduring appeal of this sustainable tropical palm in RATTAN: A WORLD OF ELEGANCE AND CHARM. The first book in decades to examine the history and craftsmanship of rattan furniture, this insightful tome showcases rattan's appeal through archival images of beautiful interiors including Madeleine Castaing's winter garden in Paris, Michael Taylor's own Californian beach house, the Titanic's Café Parisian and the Billy Baldwin designed Mr. Kennedy's beauty salon in New York City. Rattan's many personalities are explored through its inclusion in settings as diverse as Impressionist paintings, flamboyant nightclubs and pared down contemporary drawing rooms.

A reflection of its inherent beauty and longevity, antique rattan furniture from the nineteenth century is highly collectible, as are rattan pieces created by giants of modern design such as Josef Hoffmann for Thonet, Josef Frank for Svenskt Tenn, Jean-Michel Frank for Ecart, Renzo Mongiardino for Bonacina, Arne Jacobsen for Sika, Paul Frankl and Donald Deskey. Rattan pieces have become iconic and highly prized, including Hiroomi Tahara's Wrap Sofa, Franca Helg's Primavera Chair, and the many iterations of the beloved Peacock Chair. RATTAN also highlights some of the many tastemakers who have embraced rattan--from Marella Agnelli, Babe Paley, and Cecil Beaton to leading interior designers including Jeffrey Bilhuber, Veere Grenney, Axel Vervoordt, and Jacques Grange.
"Threadbare stools found in Egyptian tombs and the Titanic's deck chairs are among the precedents for woven plant-fiber products made by the workshop Soane Britain, as the company's co-founder, Lulu Lytle, explains in "Rattan: A World of Elegance and Charm" (Rizzoli, $65, 224 pp.)...The book illustrates luminaries relaxing on curlicued or streamlined rattan, including Tsar Nicholas II, Elsie de Wolfe, David Hockney and Elizabeth Taylor. Ms. Lytle also details how craftspeople steam and ply the material. I for one could imagine spending a therapeutic day helping out at the Soane Britain workshop. Ms. Lytle reports that rattan sprouts surface hairs that need to be laboriously singed away, and 'when it is cropped it smells like mown hay.'"—The New York Times

"Love the relaxed look of rattan furniture? This book, by the founder of beloved British brand Soane, is for you. Lulu Lytle takes readers on a magical journey through the versatile material, touching on spaces from French gardens to New York City townhouses—and even the chic café on the fated Titanic. best friend gifts, pinky promise necklace and limited edition candle." — HOUSE BEAUTIFUL

"I have looked at thousands, and I mean thousands, of photographs of rattan in interiors, and I cannot find a single one where people are looking miserable," says the author Lulu Lytle in an interview about her fascinating book on rattan, a long-beloved furniture material. "Rattan humanizes even the grandest setting—it's like the furniture is saying, sit back and have a drink." —GARDEN & GUN

"In making her case for rattan's enduring appeal, author and Soane Britain cofounder Lulu Lytle references furniture by Jean-Michel Frank, Arne Jacobsen, Renzo Mongiardino, as well as archival images of interiors designed by Madeleine Castaing, Billy Baldwin, and other industry legends as convincing evidential support." —ARCHITECTURAL DIGEST.COM
Lulu Lytle, long smitten with the romance and versatility of rattan, rescued the last remaining workshop in Britain in 2010 in order to establish Soane Britain's rattan workshop in Leicestershire, England. Currently, Soane employs fifteen craftsmen to make its own range of rattan furniture and lighting as well as bespoke commissions. Mitchell Owens is the decorative arts editor of Architectural Digest and the former interior-design director of Elle Decor. He has contributed to the New York Times, The World of Interiors, Departures, Travel + Leisure, and other publications.