Sales Management. Simplified.: The Straight Truth About Getting Exceptional Results from Your Sales Team
Spiral-Bound |
Mike Weinberg
Rebinding by Spiralverse™
★★★★☆+ from 1,001 to 10,000 ratings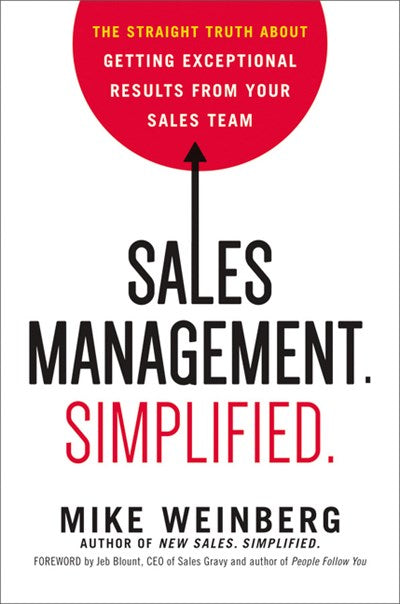 Before blaming your sales team, take a look within. What costly mistakes is management making?
Packed with examples and anecdotes, Sales Management. Simplified. offers a proven formula for prospecting, developing, and closing deals—in your time, on your terms.
Why do sales organizations fall short? Every day, expert consultants like Mike Weinberg are called on by companies to find the answer - and it's one that may surprise you. Typically, the issue lies not with the sales team but with how it is being led. Through their attitude and actions, senior executives and sales managers unknowingly undermine performance.
Weinberg tells it straight by calling out the problems plaguing sales forces and the costly mistakes made by even the best-intentioned sales managers. The good news is that with the right guidance, results can be transformed.
In Sales Management. Simplified., Weinberg teaches managers how to:
Implement a simple framework for sales leadership
Foster a healthy, high-performance sales culture
Conduct productive meetings
Put the right people in the right roles
Retain top producers and remediate underperformers
Point salespeople at the proper targets
Blending blunt, practical advice with funny stories from the field, Sales Management. Simplified. delivers the tools every sales manager needs to succeed.
Managing sales doesn't have to be complicated, and the solution starts with you!
'If you want a clear and concise overview of exactly what you need to do to run a superstar sales team, this is the book for you. Mike takes his years of experience and shares with you his best ideas on how to make successful sales management...simple. I highly recommend this book to anyone in sales.' --John Spence, Top 100 Business Thought Leader in America, and author of Awesomely Simple
Mike Weinberg loves sales! He is a consultant, coach, speaker, and bestselling author. His specialties are new business development and sales management, and he's on a mission to simplify sales and create high-performance salespeople and sales teams. Mike is known for his practical approach and for calling it like he sees it. He works with companies in all industries, ranging in size from a few million to many billions of dollars, and has spoken and consulted on five continents.