How Real Estate Developers Think: Design, Profits, and Community
Spiral-Bound |
Peter Hendee Brown
Rebinding by Spiralverse™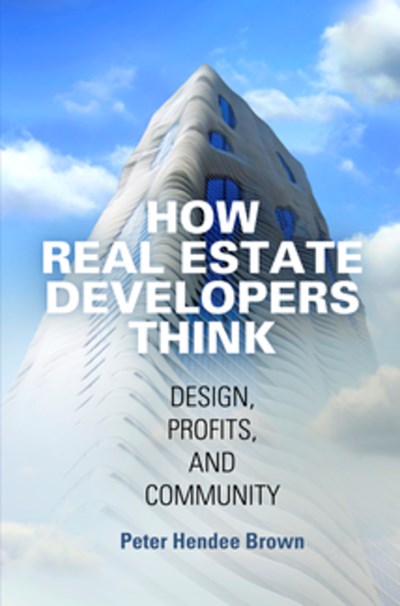 Based on interviews in Portland, Chicago, Miami, and Minneapolis/Saint Paul, How Real Estate Developers Think depicts the entrepreneurial personality of the developer, explores the meaning of "good design," and examines the economic risks and rewards of development.
Cities are always changing: streets, infrastructure, public spaces, and buildings are constantly being built, improved, demolished, and replaced. But even when a new project is designed to improve a community, neighborhood residents often find themselves at odds with the real estate developer who proposes it. Savvy developers are willing to work with residents to allay their concerns and gain public support, but at the same time, a real estate development is a business venture financed by private investors who take significant risks. In How Real Estate Developers Think, Peter Hendee Brown explains the interests, motives, and actions of real estate developers, using case studies to show how the basic principles of development remain the same everywhere even as practices vary based on climate, local culture, and geography. An understanding of what developers do and why they do it will help community members, elected officials, and others participate more productively in the development process in their own communities.

Based on interviews with over a hundred people involved in the real estate development business in Chicago, Miami, Portland (Oregon), and the Twin Cities of Minneapolis and St. Paul, How Real Estate Developers Think considers developers from three different perspectives. Brown profiles the careers of individual developers to illustrate the character of the entrepreneur, considers the roles played by innovation, design, marketing, and sales in the production of real estate, and examines the risks and rewards that motivate developers as people. Ultimately, How Real Estate Developers Think portrays developers as creative visionaries who are able to imagine future possibilities for our cities and communities and shows that understanding them will lead to better outcomes for neighbors, communities, and cities.
"Peter Brown interviewed more than 100 people involved in real estate development. He understands how the key players-developers, architects, engineers and government officials-interact to develop new or repurposed buildings and landscapes. Using real situations as examples, he clearly and expertly portrays essential personalities, and the differing motivations, risks, and rewards of the players in the process. This book is important, well written, clear, and easy to understand. If you are an architect or engineer working with developers, a municipal official responsible for reviewing and approving building proposals, a resident in a community with sites being considered for development, a member of a neighborhood or city zoning committee, a public-spirited citizen, or simply a person interested in expanding your understanding of how projects get built, you should read this book." -Peter Piven, FAIA, principal consultant of Peter Piven Management Consultants and author of Architect's Essentials of Starting, Assessing and Transitioning a Design Firm
Peter Hendee Brown is an architect, planner, and development consultant based in Minneapolis, where he also teaches at the Humphrey School of Public Affairs at the University of Minnesota. He is author of America's Waterfront Revival: Port Authorities and Urban Redevelopment, also available from the University of Pennsylvania Press.