Race Matters, 25th Anniversary: With a New Introduction
Spiral-Bound | December 5, 2017
Cornel West
Rebinding by Spiralverse™
★★★★☆+ from 10,001 to 50,000 ratings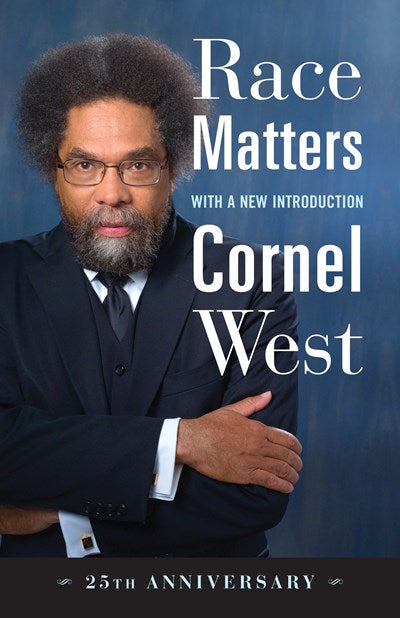 The twenty-fifth-anniversary edition of the groundbreaking classic, with a new introduction

First published in 1993, on the one-year anniversary of the Los Angeles riots, Race Matters became a national best seller that has gone on to sell more than half a million copies. This classic treatise on race contains Dr. West's most incisive essays on the issues relevant to black Americans, including the crisis in leadership in the Black community, Black conservatism, Black-Jewish relations, myths about Black sexuality, and the legacy of Malcolm X. The insights Dr. West brings to these complex problems remain relevant, provocative, creative, and compassionate.

In a new introduction for the twenty-fifth-anniversary edition, Dr. West argues that we are in the midst of a spiritual blackout characterized by imperial decline, racial animosity, and unchecked brutality and terror as seen in Baltimore, Ferguson, and Charlottesville. Calling for a moral and spiritual awakening, Dr. West finds hope in the collective and visionary resistance exemplified by the Movement for Black Lives, Standing Rock, and the Black freedom tradition.

Now more than ever, Race Matters is an essential book for all Americans, helping us to build a genuine multiracial democracy in the new millennium.
"As moving as any of the sermons of the Rev. Martin Luther King, as profound as W. E. B. Du Bois's The Souls of Black Folk, as exhilarating in their offering of liberation as James Baldwin's early essays."
—David Nicholson, Washington Post Book World

"Cornel West is one of the most authentic, brilliant, prophetic, and healing voices in America today. We ignore his truth in Race Matters at our personal and national peril."
—Marian Wright Edelman

"Exciting . . . illuminating . . . West's thinking consistently challenges the conventional wisdom [and] confronts the reader with profound and unsettling insights."
—Robert S. Boynton, Newsday

"A compelling blend of philosophy, sociology and political commentary . . . It directly takes on some of the most volatile issues facing American society today. . . . One can only applaud the ferocious moral vision and astute intellect on display in these pages."
—Michiko Kakutani, New York Times
Cornel West is a prominent and provocative democratic intellectual. He graduated magna cum laude from Harvard University in three years and obtained his MA and PhD in philosophy at Princeton University. He has taught at Union Theological Seminary, Yale, Harvard, Princeton, and the University of Paris. He has written twenty books and edited thirteen, including Black Prophetic Fire and The Radical King, a collection that reclaims Dr. Martin Luther King's prophetic and radical vision as both a civil rights leader and a human right activist. Dr. West has also made three spoken-word albums, including Never Forget, collaborating with Prince, Jill Scott, Andre 3000, Talib Kweli, KRS-One, and Gerald Levert. He is currently Professor of the Practice of Public Philosophy at Harvard University.