Sonny: The Last of the Old Time Mafia Bosses, John Sonny Franzese
Spiral-Bound | March 29, 2022
S.J. Peddie
Rebinding by Spiralverse™
★★★★☆+ from 101 to 500 ratings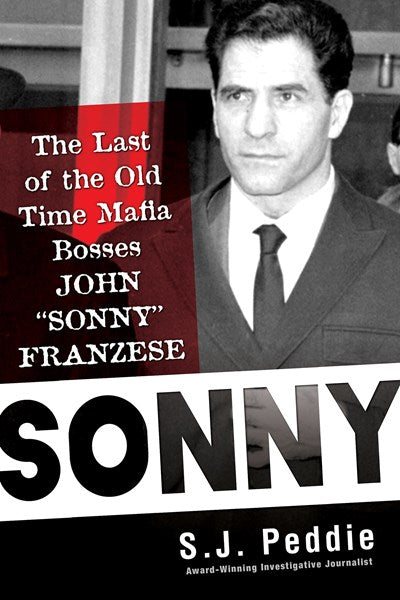 Based on exclusive interviews before his death in 2020 at age 103, SONNY is the first and only authorized biography of legendary mob boss John "Sonny" Franzese, the head of the Columbo crime family and financier of the infamous film Deep Throat. An old school Mafioso, he kept silent on his nine decade career in organized crime, remaining loyal to the Mafia oath throughout 30 years in prison, until he finally agreed to talk to award-winning Newsday reporter S.J. Peddie for this groundbreaking, never-before-revealed account.

John "Sonny" Franzese reportedly committed his first murder at the age of fourteen. As a "made man" for the Colombo crime family, he operated out of his Long Island home specializing in racketeering, fraud, loansharking, and other illicit deeds he would deny to his dying day. His career in organized crime spanned over eight decades—and was sentenced to fifty years in prison for robbery charges. But even behind bars, Sonny Franzese never stopped doing business…

This is the true story of an old-school Mafioso as it's never been told before. Newsday reporter S.J. Peddie interviewed Franzese in prison—and uncovered a lifetime of shocking secrets from the legend himself:


Why FBI Director J. Edgar Hoover had a very personal interest in Sonny.
How Sonny managed to juggle numerous affairs with women, including a famous model.
How Sonny spent a third of his life in prison—and still managed to earn untold millions for the mob.
How Sonny accidentally revealed some of his worst crimes—to a "friend" wearing a wire.
How Sonny hobnobbed with celebrities such as Ava Gardner, Jayne Mansfield, Bobby Darin, Sammy Davis, Jr., and Dionne Warwick, among others.

Through it all, Franzese refused to break the Mafia's code of silence. Authorities believe he may have murdered, or ordered the murders of, forty to fifty people. Yet he earned a grudging respect from law enforcement and an absolute reverence from his fellow gangsters. Eventually he managed to outlive them all—until his death in 2020 of natural causes, a rare event in the Mafia. Thanks to a series of exclusive firsthand interviews with Newsday reporter S.J. Peddie, the astonishing life story of John "Sonny" Franzese can be told in all its bold, brutal, and blood-spattered glory. This is a must-read for anyone fascinated with Mafia history—and a rare look inside a criminal mind that has become the stuff of legend.
Praise for Sonny

"The long-time New York journalist managed to wrangle several telling interviews with the mobster in his final days, along with others involved in various phases of Sonny's colorful life. (She explains how it all came about in a short, exciting prologue.) Her research, too, is impressive. What (Peddie) has assembled here is a gripping account of an old school gangster, someone who absolutely refused to turn state's evidence, refused to "rat," the last of a breed."
—Mystery Tribune

"Couldn't put it down."
—Nicholas Pileggi, author of Wiseguy and Casino

"By turns blood-curdling and hilarious, Sonny regales us with the life and career of one of the most powerful and least-known New York mafia crime bosses. A scrupulously documented and compulsive read."
—Teresa Carpenter, Pulitzer Prize winner and author of Mob Girl: A Woman's Life in the Underworld

"Sonny Franzese was a standup guy. He lived his life, and he didn't hurt innocent people. And I knew him my whole life."
—Former Philadelphia crime boss Ralph Natale
S.J. Peddie is an investigative reporter at Newsday Media Group and a Pulitzer Prize finalist for a series of stories on police misconduct. Inducted into the Long Island Press Club Hall of Fame, she's the recipient of the National Headliners, Casey, Scripps Howard, Silurians and New York State Newspaper Publishers Association Awards. In 2018, she won a New York Emmy for co-producing the documentary Cost of Corruption. Peddie served on the board of the Reporters Committee for Freedom of the Press and has been a featured speaker at national conferences sponsored by Investigative Reporters and Editors, the Society of Professional Journalists, the American Society of Journalists and Authors and the Poynter Institute, as well as the International Center for Journalists, the Annenberg School at the University of Southern California, Columbia University and New York State Archives. She has taught journalism at Hofstra and Stony Brook universities.