Three Ordinary Girls: The Remarkable Story of Three Dutch Teenagers Who Became Spies, Saboteurs, Nazi Assassins--and WWII Heroes
Spiral-Bound | February 23, 2021
Tim Brady
Rebinding by Spiralverse™
★★★★☆+ from 1,001 to 10,000 ratings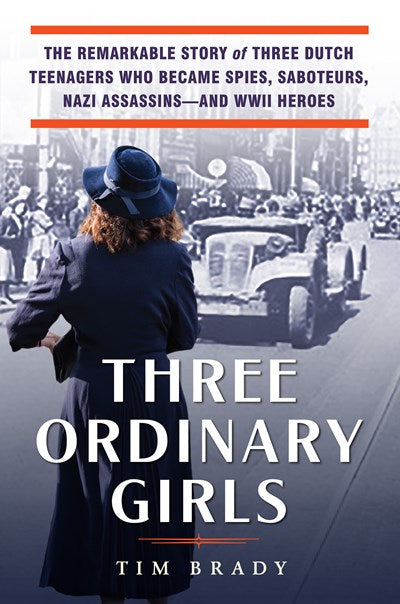 The astonishing true story of three fearless female resisters during WWII whose youth and innocence belied their extraordinary daring in the Nazi-occupied Netherlands. It also made them the underground's most invaluable commodity. Recruited as teenagers, Hannie Schaft, and Dutch sisters Truus and Freddie Oversteegen fulfilled their harrowing missions as spies, saboteurs, and Nazi assassins with remarkable courage, but their stories have remained largely unknown...until now.

May 10, 1940. The Netherlands was swarming with Third Reich troops. In seven days it's entirely occupied by Nazi Germany. Joining a small resistance cell in the Dutch city of Haarlem were three teenage girls: Hannie Schaft, and sisters Truus and Freddie Oversteegen who would soon band together to form a singular female underground squad.

Smart, fiercely political, devoted solely to the cause, and "with nothing to lose but their own lives," Hannie, Truus, and Freddie took terrifying direct action against Nazi targets. That included sheltering fleeing Jews, political dissidents, and Dutch resisters. They sabotaged bridges and railways, and donned disguises to lead children from probable internment in concentration camps to safehouses. They covertly transported weapons and set military facilities ablaze. And they carried out the assassinations of German soldiers and traitors--on public streets and in private traps--with the courage of veteran guerilla fighters and the cunning of seasoned spies.

In telling this true story through the lens of a fearlessly unique trio of freedom fighters, Tim Brady offers a little-known perspective of the Dutch resistance during the war. Of lives under threat; of how these courageous young women became involved in the underground; and of how their dedication evolved into dangerous, life-threatening missions on behalf of Dutch patriots--regardless of the consequences.

Harrowing, emotional, and unforgettable, Three Ordinary Girls finally moves these three icons of resistance into the deserved forefront of world history.
Praise for Three Ordinary Girls

"In the Twentieth Century, Nazi occupation of European countries confronted millions of ordinary citizens with monumental choices, mostly disguised as simple, daily acts. This triple biography tells how three very young people made the extremely difficult choice to actively fight against their fascist oppressors. A book like this makes you wonder what choices you would make in the same situation… The stories of these three brave young women is a powerful example of counterfactual history." —Medium

"Historian Brady (Twelve Desperate Miles) delivers a dramatic group portrait of three teenage girls who fought in the Dutch resistance movement during WWII. Brady conveys the inhumanity of the period with precision…. This moving story spotlights the extraordinary heroism of everyday people during the war and the Holocaust." —Publishers Weekly

"Brady has explored little-known aspects of World War II, from the life of Ted Roosevelt Jr. (His Father's Son, 2017) to the story of a civilian freighter that aided in a critical Moroccan invasion (Twelve Desperate Miles, 2012). Now he turns his attention to the Netherlands, highlighting three young women who worked for the Dutch resistance....The women trained as fighters, learning hand-to-hand combat and practicing their shooting. Their missions were often based on their ability to infiltrate male spaces by taking advantage of soldiers' assumptions about femininity: that the girls were naive, stupid, and innocent when they were anything but.....This book will please Brady's fans as well as those who are interested in new and different stories of WWII."
—Booklist

"Exhaustively researched and written with both authority and style, Tim Brady's Three Ordinary Girls is history that reads like a novel. A vivid and unforgettable portrait of three young women who put their lives on the line in a very personal fight against Naziism, this book is a page-turner and is highly recommended."
—Stephen Harding, New York Times best-selling author of The Last Battle.

"James Bond on bicycles, Brady's Three Ordinary Girls are NOT so Ordinary. These three teenage girls: Truus, her little sister Freddie, and the redheaded Hannie are courage personified and key members of the legendary Dutch resistance. Sometimes reckless, often naïve, always patriotic, our heroines wield guns like cowgirls, while risking their lives to fight the German occupation. And just when you think the Allies have landed and Europe is saved, things take a turn for the worse. Whether they are assassinating Nazis from their bicycles or smuggling Jewish children and satchels of weapons under the nose of the Gestapo, following these three not-so ordinary girls is a nail-biting experience, an exciting book that you won't be able to put down until the last page."
—Heather Dune Macadam, author of 999: The Extraordinary Young Women of the First Official Jewish Transport to Auschwitz

"An important, untold story from WWII that needed to be told. A brave tale about an incredibly brave sisterhood who fought for all that was good and right and just in the world. The word 'hero' tends to be over-used these days, but not here - not with these utterly extraordinary heroines."
—Damien Lewis, #1 International Bestselling author of Churchill's Hellraisers and Churchill's Band of Brothers

"Three Ordinary Girls delivers a lean and fast-paced true tale about a group of young women who assassinated Nazis, sabotaged bridges, saved Jewish children, and delivered priceless documents and information in the service of the Dutch resistance during World War II. Tim Brady writes captivatingly of under-recognized heroes and self-sacrifice in a chapter of the war's history that will now be better known."
—Jack El-Hai, author of The Nazi and the Psychiatrist and The Lost Brothers, and winner of the 2020 Book Award in Biography/History from the American Society of Journalists and Authors

Praise for Tim Brady

"Historians have so thoroughly fished the drama of World War II that it is hard to believe the subject still has prize catches to offer up, but here comes a keeper...[Brady] conveys the campaign in an almost novelistic way, bringing seemingly disparate figures and incidents into an engaging narrative...[he] tells the story in a style that will keep readers on the edge of their seats."
—The Wall Street Journal on Twelve Desperate Miles

"Tim Brady's yarn of the Contessa and her role in one of the most crucial episodes in WWII will delight military buffs and those looking for a well-written page turner. Highly recommended."
—Alex Kershaw, author of The Bedford Boys and The Longest Winter on Twelve Desperate Miles

"[A] tension-filled, exciting story of the invasion and Contessa's role in it. This is an excellent recounting of an obscure but important episode of World War II."
—Booklist on Twelve Desperate Miles

"An entertaining story of individual heroism, which Brady surrounds by an equally entertaining account of the North African invasion, the largest amphibious operation in history at the time."
—Kirkus Reviews on Twelve Desperate Miles
Tim Brady is an award-winning history author whose critically acclaimed books include Twelve Desperate Miles, A Death in San Pietro, His Father's Son and Three Ordinary Girls. In addition to contributing numerous articles, reviews, essays and short stories for a wide range of magazines, newspapers and journals, he has written and helped develop a number of television documentaries, including the Peabody Award-winning series, Liberty! The American Revolution for PBS. He lives in St. Paul, Minnesota, and is a graduate of the Iowa Writers' Workshop.