A Beginner's Guide to Quilling Paper Flowers: Beautiful Japanese-Style Paper Art
Spiral-Bound | December 6, 2022
Motoko Maggie Nakatani
Rebinding by Spiralverse™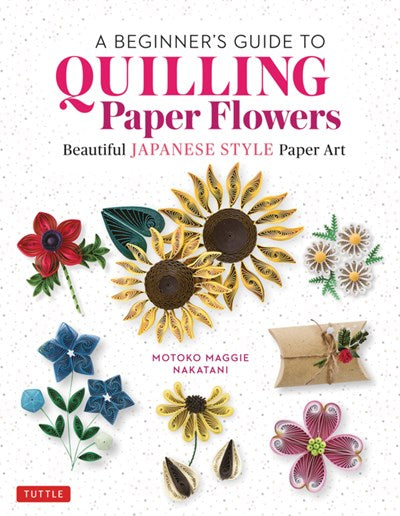 Create exquisite, long-lasting quilled paper flowers with this step-by-step detailed guide!
With the help of Japanese quilling expert Motoko Maggie Nakatani, you can create breathtaking quilled flowers with just a few inexpensive tools and paper quilling strips. Her simple
roll-shape-and-paste
method is perfect for beginners--allowing you to quickly create dozens of different flowers.
A Beginner's Guide to Quilling Paper Flowers
has all the information you need to embark on this fascinating hobby using easy-to-follow, step-by-step photographic instructions.
Make 32 different varieties of quilled flowers, including:
Roses--with frilly petals and ornate leaves for sweet and romantic gift decorations!
Gerbera--with a graduated 3-level "wedding cake" effect that makes it the highlight of any display!
Japanese Wisteria--whose contrasting colors and cascading blossoms make a memorable impression!
Black-Eyed Susans--with clever arrangement of the petals creating a unique 3D effect!
Dogwood Blossoms--whose intricate harp-shaped petals really showcase your skill as a quillist!
And dozens of others!
This complete how-to guide has templates and detailed step-by-step instructions as well as information on how to use and display your beautiful paper flowers--as gift toppers, framed displays, handmade cards, photo frames and in shadow box displays.
"We have yet to meet a crafter that doesn't experience sheer, unbridled joy seeing neat little petals bloom at their fingertips from unassuming strips of paper. Now imagine the joy you'd feel creating petals so breathtaking they were--dare we say--better than the real deal. That's what you'll experience working through the 32 projects in A Beginner's Guide to Quilling Paper Flowers. Author Motoko Maggie Nakatani is a veritable wizard with quilling strips, and you will be too under her meticulous tutelage." --Featured in Crafts-Beautiful magazine & PaperCrafter magazine
Motoko Maggie Nakatani discovered her love for quilling when she owned a toy and candy shop in Kobe, Japan. She taught herself to quill and began importing quilling tools and materials to sell in her shop beginning in 2003. After attending her first North American Quilling Guild convention, she was inspired to offer quilling classes to pass along the techniques that she'd developed herself and learned from other quillers. Maggie is also the lead instructor for Botanical Quilling Japan, a group that focuses on work expressing the seasonal beauty of plants and flowers. She is a founding member of the Japan Quilling Guild and the Japanese representative to the North American Quilling Guild.