Indian Children's Favorite Stories: Fables, Myths and Fairy Tales
Spiral-Bound | April 14, 2020
Rosemarie Somaiah, B. Ranjan Somaiah (Illustrated by)
Rebinding by Spiralverse™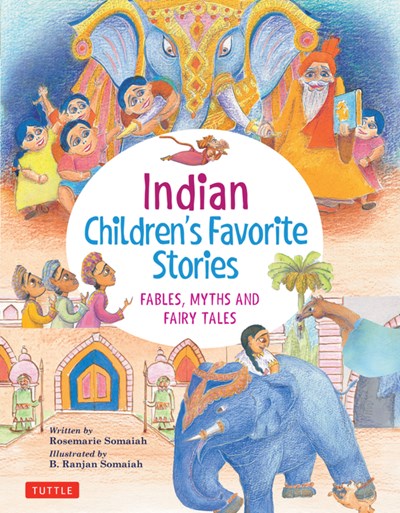 This colorfully illustrated multicultural children's book presents Indian fairy tales and other folk stories that the whole family will enjoy!
Indian Children's Favorite Stories
is a charming selection of eight Indian tales that provide an insight into traditional Indian culture. They make perfect new additions for story time or bedtime reading.
Retold for an international audience, the beautifully illustrated stories will give children of all ages a glimpse into the fables and folklore of India, including tales of how Lord Krishna escapes the evil Kamsa's repeated attempts to kill him, and how the elephant keeper's daughter, Rani, humbles an unwise and unjust king by emptying his storehouses of rice.
Featured Indian stories include:
The Story of Rama, the ancient Indian tale of a prince's exile and return to his homeland
Sukhu and Dukhu, two sisters--one kind, one selfish--and their different fates
Munna and the Grain of Rice, how a good and clever girl saves her people from hunger
And five more wonderful tales to delight story lovers everywhere.
A glossary is also included, so that everyone can understand and appreciate the Indian words scattered throughout the stories.
The
Children's Favorite Stories
series was created to share the folktales and legends most beloved by children in the East with young readers of all backgrounds in the West. Other multicultural children's books in this series include:
Asian Children's Favorite Stories, Indonesian Children's Favorite Stories, Japanese Children's Favorite Stories, Singapore Children's Favorite Stories, Filipino Children's Favorite Stories, Favorite Children's Stories from China & Tibet, Chinese Children's Favorite Stories, Korean Children's Favorite Stories, Balinese Children's Favorite Stories,
and
Vietnamese Children's Favorite Stories
.
Rosemarie Somaiah fondly remembers her childhood in India. A storyteller, teacher and writer, she loves to link families, histories, literature and cultures with the threads of stories old and new. As a child, her playmates called her "grandma" and she finds it fun now to be heading in the opposite direction.

Illustrator
B. Ranjan Somaiah was born in India. When Somaiah gained entry to the prestigious Indian Institute of Technology, Chennai, his peers noticed his aptitude for art and encouraged him to pursue it as a hobby. On obtaining his degree in engineering, he was offered a management training program in the graphic arts at Tata Press Ltd., Mumbai, which he gladly undertook and subsequently joined Tata Consulting Engineers as a design engineer. After spending 16 years with the House of Tatas, Somaiah decided to strike out on his own as a designer and took up art and illustrating seriously, contributing to various publications--the most notable being the Deccan Herald, a Bangalore-based newspaper, where he is on the panel of cartoonists and illustrators.