Fallen: A Novel
Spiral-Bound | September 27, 2016
Karin Slaughter
Rebinding by Spiralverse™
★★★★☆+ from 50,001 + ratings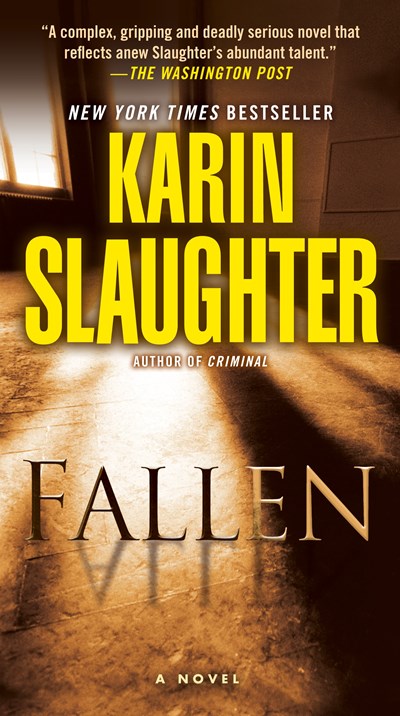 NEW YORK TIMES BESTSELLER • "A complex, gripping, and deadly serious novel that reflects anew [Karin] Slaughter's abundant talent."—The Washington Post

WATCH WILL TRENT ON ABC • "An absolute master . . . Slaughter creates some wonderfully complex and mature female characters, a distinctive achievement in the world of thrillers."—Chicago Tribune

"You know what we're here for. Hand it over, and we'll let her go."

There's no police training stronger than a cop's instinct. Faith Mitchell's mother isn't answering her phone. Her front door is open. There's a bloodstain above the knob. Her infant daughter is hidden in a shed behind the house. All that the Georgia Bureau of Investigations taught Faith Mitchell goes out the window when she charges into her mother's house, gun drawn. She sees a man dead in the laundry room. She sees a hostage situation in the bedroom. What she doesn't see is her mother. . . .

Faith is left with too many questions and not enough answers. To find her mother, she'll need the help of her partner, Will Trent, and they'll both need the help of trauma doctor Sara Linton. But Faith isn't just a cop anymore—she's a witness. She's also a suspect.

The thin blue line hides police corruption, bribery, even murder. Faith will have to go up against the people she respects the most in order to find her mother and bring the truth to light—or bury it forever.
Praise for FALLEN


"An amazing effort. This is Slaughter's best book to date, and readers unfamiliar with her work will find this one a perfect place to begin."
—Associated Press


"The first 16 pages of Karin Slaughter's new novel are a master class in suspense….Fallen, Slaughter's 11th novel in 11 years, shows again that she is in the first rank of today's crime novelists. Her story is expertly written, exhaustively researched, steeped in police lore, deeply rooted in the author's native Georgia and exceedingly violent. Slaughter has a rare ability to balance violence with a compassionate view of her complex and all-too-human characters. She's a supremely tough-minded novelist who often writes with exceptional sensitivity…..Fallen is a complex, gripping and deadly serious novel that reflects anew Slaughter's abundant talent. If you haven't read her, you should." —The Washington Post

"Karin Slaughter has written a novel that is complex, unsettling, and with one of the meatiest suspense plots of the summer." —Tucson Citizen

"Slaughter just keeps getting better!"
—Romantic Times Book Review

"Her talent is the equivalent of an Edgar Allan Poe or a Nathaniel Hawthorne.…You can't dismiss the growth of Slaughter's talent. She has always been a good writer but of late she has become an exemplary storyteller, weaving her words with skill and intelligence. Fallen is a prime example of her talent….Sometime in the future, college classes will be devoted to Slaughter's books and her writing skills will be dissected. She will be recognized as one of the great talents of the 21st century and will hold an honored place in the realm of world literature." —Huffington Post

"Slaughter has always known how to pace the suspense in her stellar crime novels, but she really outdoes herself here….In what might be her best effort yet, Slaughter reveals the heart and soul of her characters within a highly choreographed, unrelentingly suspenseful plot."
—Booklist (starred)

"Karin has set a high bar with each of her books—and she delivers….Once you close it, you will need time to think about the story as you finally exhale." —Bookreporter

"Gripping….a thriller sure to please Slaughter's many fans." —Publishers Weekly

"Slaughter's thrillers are always exciting, but it's her compelling characters that really make them page-turners." —Minneapolis Star Tribune

"This is Slaughter's best thriller yet." —Bookloons




PRAISE FOR THE CRIME FICTION OF KARIN SLAUGHTER

"Karin Slaughter is one of the best crime novelists in America."—The Washington Post

"Crime fiction at its finest."—Michael Connelly

"Slaughter writes like a razor . . . better than Cornwell can ever hope to be."—The Plain Dealer

"Slaughter will have you on the edge of your seat."—The Seattle Post-Intelligencer

"One of the boldest thriller writers working today."—Tess Gerritsen

"Move over, Catherine Coulter—Slaughter may be today's top female suspense writer."—Library Journal (starred review)
Karin Slaughter is the New York Times and #1 internationally bestselling author of numerous thrillers, including Cop Town, Unseen, Criminal, Fallen, Broken, Undone, Fractured, Beyond Reach, Triptych, Faithless, and the e-original short stories "Snatched" and "Busted." She is a native of Georgia.