I am Abraham Lincoln
Spiral-Bound | January 14, 2014
Brad Meltzer, Christopher Eliopoulos (Illustrated by)
Rebinding by Spiralverse™
★★★★☆+ from 1,001 to 10,000 ratings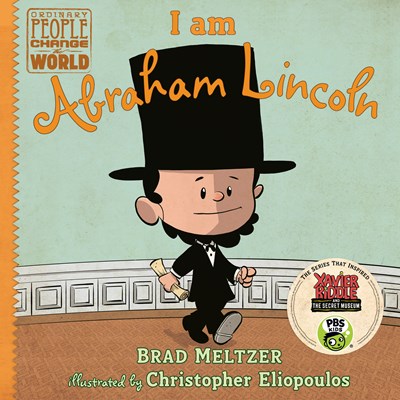 Each picture book in this series is a biography of an American hero, told in a simple, conversational, vivacious way, and always focusing on a character trait that made the person heroic. (Cover may vary)

The heros are depicted as children throughout, telling their life stories in first-person present tense, which keeps the books playful and accessible to young children. This book spotlights Abraham Lincoln who always spoke his mind and was unafraid to speak for others.This friendly, fun biography series inspired the PBS Kids TV show Xavier Riddle and the Secret Museum. One great role model at a time, these books encourage kids to dream big.

Included in each book are:
• A timeline of key events in the hero's history
• Photos that bring the story more fully to life
• Comic-book-style illustrations that are irresistibly adorable
• Childhood moments that influenced the hero
• Facts that make great conversation-starters
• A virtue this person embodies: Abraham Lincoln's compassion made him a great leader.

You'll want to collect each book in this dynamic, informative series!
Brad Meltzer is the New York Times bestselling author of Heroes for My Son, Heroes for My Daughter, The Lincoln Conspiracy, and a number of suspense novels like The Lightning Rod. He also helped find the missing 9/11 flag with his History Channel television show Brad Meltzer's Lost History. He lives in Florida with his wife and their three children. (And did you know that a picture of Brad is hidden in every book in this series?)

Christopher Eliopoulos began his illustration career at Marvel Comics, and has worked on thousands of comics, including his own Cow Boy and Franklin Richards: Son of a Genius. He is the author and illustrator of the picture books The Yawns Are Coming! and The Giggles Are Coming! and the graphic novels Cosmic Commandos and Monster Mayhem. He lives in New Jersey with his wife and their college-graduate twin sons (who also make an appearance in each Ordinary People Change the World book).