The Truth about Us: The Very Good News about How Very Bad We Are
Spiral-Bound |
Brant Hansen
Rebinding by Spiralverse™
★★★★☆+ from 501 to 1,000 ratings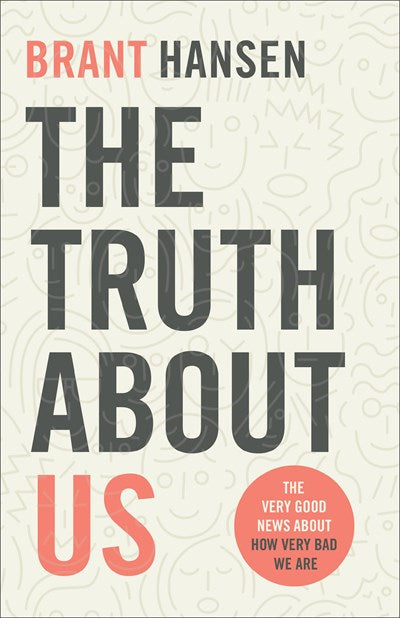 Popular Christian radio host and podcaster uses stories, humor, and fascinating cultural research to challenge us to get over ourselves and grasp the biblical truth that we aren't really "good people"--and that this is good news for all of us!

What would happen if you admitted you weren't a good person?

It's a seemingly crazy question. From priests to prisoners, nearly everyone thinks they're morally better than average. Why change our minds? Why admit the truth about ourselves?

In his conversational, fun-to-read, and delightfully self-effacing style, Brant Hansen shows us why we should fight our drive to be self-righteous: it's breathtakingly freeing. What's more, just admitting that we're profoundly biased toward ourselves and want desperately to preserve our "rightness" at all costs even helps us think better, make better decisions, be better listeners, and improve our relationships with God and others.

Hansen draws from biblical insight and the work of everyone from esteemed social psychologists to comedians to make his point: the sooner we get over ourselves, give up the "I'm good" internal dialogue, and admit the truth, the sooner we can live a more lighthearted, fruitful, fun-loving life.

This book is about the freedom of childlike humility. After all, as Hansen writes, the humble life is truly your best one.
Brant Hansen is an author, nationally syndicated radio host, and advocate for healing children with correctible disabilities through CURE International. His podcast with his friend and radio producer, The Brant and Sherri Oddcast, has been downloaded millions of times. The author of Unoffendable and Blessed Are the Misfits, Hansen has written for CNN.com, the Washington Post, U.S. News and World Report, the South Florida Sun-Sentinel, Relevant, and numerous other outlets on matters as varied as public policy, culture, sports, Asperger's syndrome, and faith. He and his wife, Carolyn, live in South Florida.