The Resilient Pastor: Leading Your Church in a Rapidly Changing World
Spiral-Bound |
Glenn Packiam, David Kinnaman (Foreword by)
Rebinding by Spiralverse™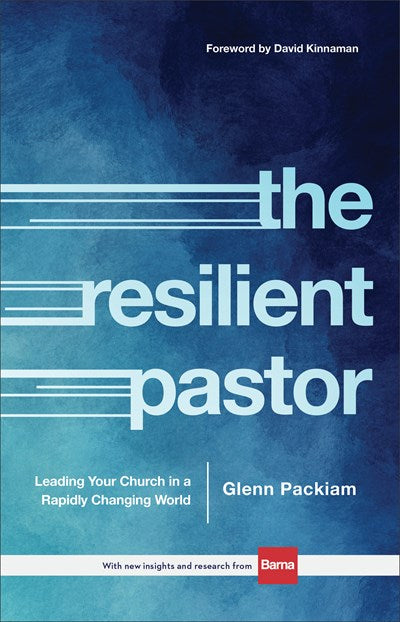 Featuring analysis based on the latest sociological data from the Barna Group, pastor and influencer Glenn Packiam helps Christian leaders reflect on the rich theology of their calling and bring the bright hope that Jesus is alive to their congregants.

How can pastors become resilient in a rapidly changing world? Is it possible to love well and lead faithfully? In the wake of crises that have exposed and accelerated massive cultural shifts, we see more clearly the seismic shifts of post-Christendom, the surging storms of a new paganism and pluralism, and the scattered debris of the cultural aftermath.

Drawing on new research from the Barna Group, Scripture, and church history, pastor, theologian, and researcher Glenn Packiam addresses some of the most pressing questions for today's leaders, including

- What is a pastor's calling and vocation?
- How do church leaders regain credibility in a disillusioned world?
- How do church leaders cultivate a deeper life with God?
- How do pastors develop meaningful relationships?
- Why does the church gather in worship? Does it still matter if we do?
- How do we actually make disciples in this new landscape?
- How can we face the challenges to unity presented by nationalism and racism?
- What is the church's mission in the world?
- How do we welcome the presence and power of God in our churches?

This book is for all who are burdened by the challenges facing the church as well as the turbulence of our times. With infographics, enlightening data, and insights from other ministry leaders, this book is the perfect resource for church leaders who want to cultivate resilience in their ministry today.
Glenn Packiam (DThM, Durham University) is associate senior pastor at New Life Church in Colorado Springs, and lead pastor of one of its eight congregations, New Life Downtown. A senior fellow at Barna Group, a visiting fellow at St. John's College at Durham University, and an adjunct professor at Denver Seminary, Glenn is the author of several books, including Blessed Broken Given and Worship and the World to Come. He is also an ordained priest with the Anglican Church of North America, speaks regularly at conferences, and has appeared on numerous podcasts and radio shows. As one of the founding leaders and songwriters for the popular Desperation Band, he has also released three solo albums with Integrity Music and has written or cowritten nearly seventy worship songs. Glenn and his wife, Holly, live in the shadow of the Rocky Mountains with their four children. Learn more at glennpackiam.com.