Evil Never Sleeps
Spiral-Bound | May 29, 2018
William W. Johnstone, J.A. Johnstone
Rebinding by Spiralverse™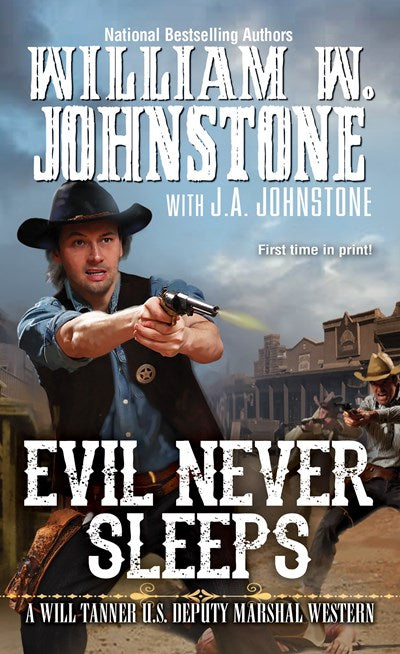 Johnstone Country. Frontier Spirit Lives Here.

The bestselling masters of the American West add a deadly new twist to the epic saga of U.S. Marshal Will Tanner. This time, the hunter becomes the hunted . . .

EVIL NEVER SLEEPS

He's the most notorious cattle rustler in all of Texas. His name—Jebediah Cotton—strikes fear into the hearts of every rancher in the territory. So it's more than a little strange that someone would shoot Cotton's youngest son in the back. Whoever did it is either a coward, a fool, or a crazy man. Whoever did it must die. Even if he's a U.S. deputy marshal named Will Tanner . . .

So begins not one, but two of the deadliest manhunts in frontier history. As Will Tanner sets off into Oklahoma Territory in pursuit of godless bank robber named Parson McCoy, Jebediah Cotton sends his five remaining sons and cold-blooded brother-in-law after him. Will has no idea he's being stalked. But when there are this many players in the game, a U.S. deputy marshal has two choices: kill them all or die trying . . .
William W. Johnstone is the New York Times and USA Today bestselling author of over 300 books, including the series THE MOUNTAIN MAN; PREACHER, THE FIRST MOUNTAIN MAN; MACCALLISTER; LUKE JENSEN, BOUNTY HUNTER; FLINTLOCK; THOSE JENSEN BOYS; THE FRONTIERSMAN; SAVAGE TEXAS; THE KERRIGANS; and WILL TANNER: DEPUTY U.S. MARSHAL. His thrillers include BLACK FRIDAY, TYRANNY, STAND YOUR GROUND, and THE DOOMSDAY BUNKER. Visit his website at www.williamjohnstone.net or email him at dogcia2006@aol.com.

Being the all-around assistant, typist, researcher, and fact checker to one of the most popular western authors of all time, J.A. Johnstone learned from the master, Uncle William W. Johnstone.

He began tutoring J.A. at an early age. After-school hours were often spent retyping manuscripts or researching his massive American Western History library as well as the more modern wars and conflicts. J.A. worked hard—and learned.

"Every day with Bill was an adventure story in itself. Bill taught me all he could about the art of storytelling. 'Keep the historical facts accurate,' he would say. 'Remember the readers, and as your grandfather once told me, I am telling you now: be the best J.A. Johnstone you can be."