Best Seat in the House: 18 Golden Lessons from a Father to His Son
Spiral-Bound |
Jack Nicklaus II, Don Yaeger
Rebinding by Spiralverse™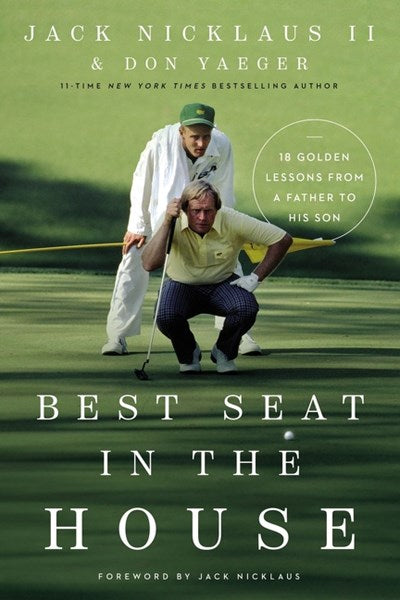 USA Today Bestseller
Now available in trade paper! Jack Nicklaus II shares stories, insights, and lessons he's learned from his father, the "Golden Bear," that will delight golf fans of all ages, encourage fathers, and inspire readers to focus on what's most important in life: family.
Best Seat in the House, written with New York Times bestselling author Don Yaeger, gives us eighteen valuable lessons that Jack Nicklaus II learned from his father, PGA champion Jack Nicklaus. Although the "Golden Bear," as he is known by fans, is widely regarded as the best golfer of all time, with a record number of PGA major championships, his life and values show that true legacy lives on through your children, grandchildren, and others we are blessed to call family and friends.
For the first time, the public is given the opportunity to see what made Jack Nicklaus an off-course success, including
how he and his wife, Barbara, fashioned fifty-plus years of marriage, understanding that they both had to give of themselves "at least 95 percent of the time"
the importance of having boundaries and limits that everyone in the family agrees on
how Nicklaus taught his son Jack, who worked as his caddie for several years, to value his competitors and treat them as he would hope to be treated
the need to be connected to what we'll leave behind: our legacies
One June day, Jack Nicklaus II had just completed his second round in a Palm Beach County Junior Golf Association tournament and was sitting at the scorer's table, signing his scorecard, when somebody told him his dad was on the telephone. He was a little frustrated because he didn't want to be bothered on such an important day, but his dad wanted to know how he had played, so Jack II spent the next twenty minutes detailing every hole and every shot.
Afterward, his father said, "Jackie, would you like to know how your dad did today?" Of course he wanted to know, and he felt a little guilty for not asking. "Well, I just won the US Open." It was Father's Day 1980, and on that day Jack II learned a valuable lesson that he carried with him into adulthood: family is more important than anything in the world.
Jack Nicklaus II is president of Nicklaus Design and vice chairman of Nicklaus Company. As a golf course designer, he works as both a solo designer and a collaborator with his father and has been recognized by his selection into the prestigious American Society of Golf Course Architects. He has designed nearly fifty golf courses that are open for play today. Jack II also serves on the board of directors of Nicklaus Children's Health Care Foundation and is chairman of both the Muirfield Village Golf Club and Memorial Tournament.
The first of five children born to Jack and Barbara Nicklaus, Jack II played on the University of North Carolina golf team and had a brief career as a professional golfer, playing several years as a member of tours in Australia, Asia, and Canada, and on the European Tour. He also played in several PGA Tour events as a non- member. He is married to Allison (Alli) and is the father of five: Jack III, Christie, Charlie, Casey, and Will.