Ball Complete Book of Home Preserving: 400 Delicious and Creative Recipes for Today
Spiral-Bound |
Judi Kingry (Edited by), Lauren Devine (Edited by), Sarah Page (Edited by), Sarah Page (Introduction by)
Rebinding by Spiralverse™
★★★★☆+ from 1,001 to 10,000 ratings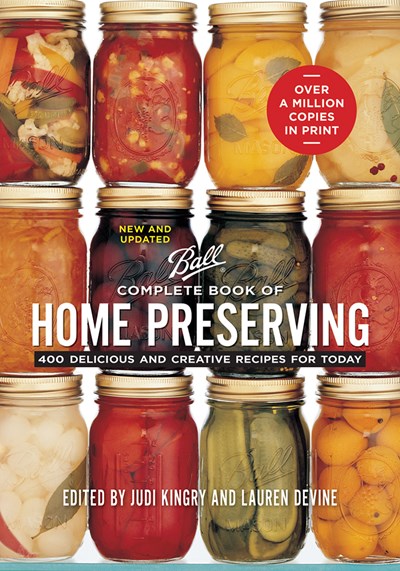 A comprehensive guide to safe canning and preserving at home, including instructions for beginners, tips for experienced cooks and 400 recipes. Written by experts from a company specializing in home canning product.
From the experts, the updated bible in home preserving.
The hugely bestselling Ball Complete Book of Home Preserving has been broadly updated to reflect changes over the last 15 years with new recipes and larger sections on low sugar and fermentation. Ball Home Canning Products are the gold standard in home preserving supplies, the trademark jars on display in stores every summer from coast to coast. This companion to their products is this bible of home preserving from the experts on the practice which has sold more than a million copies. The book includes 400 innovative recipes for salsas, savory sauces, pickles, chutneys, relishes and of course, jams, jellies, and fruit spreads. The book includes comprehensive directions on safe canning and preserving methods plus lists of required equipment and utensils. Specific instructions for first-timers and handy tips for the experienced make this book a valuable addition to any kitchen library.
A bible for those of us who consider canning a way of life... clearly written and easy to follow... creative recipes... encouraging, concise text. With its extensive sections on technique, special equipment, the science of preserving and problem solving, the beginning preserve maker as well as the expert will find recipes to love. -Julie Turjoman
Judi Kingry honed her skills and passion for preserving as the Marketing and Consumer Services Manager at Bernardin®.
Lauren Devine has experience as a Product Research and Test Kitchen Scientist at Ball® Fresh Preserving.
Sarah Page brings her knowledge and expertise to this updated edition. She has experience as the Culinary Marketing Manager for Ball® Fresh Preserving.