Moonlight Road
Spiral-Bound | December 30, 2014
Robyn Carr
Rebinding by Spiralverse™
★★★★☆+ from 10,001 to 50,000 ratings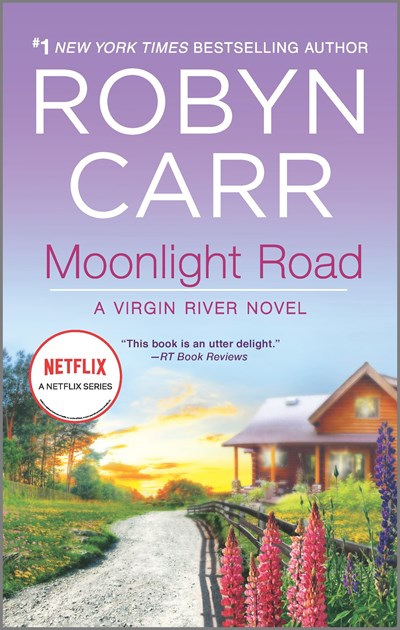 Welcome back to Virgin River with the books that inspired the hit Netflix series…

With her beloved younger siblings settled and happy, Erin Foley has empty-nest syndrome. At age thirty-five.

So she's hitting the pause button on her life and holing up in a secluded (but totally upgraded—she's not into roughing it) cabin near Virgin River. Erin is planning on getting to know herself…not the shaggy-haired mountain man she meets.

In fact, beneath his faded fatigues and bushy beard, Aiden Riordan is a doctor, recharging for a summer after leaving the navy. He's intrigued by the pretty, slightly snooty refugee from the rat race—her meditating and journaling are definitely keeping him at arm's length. He'd love to get closer…if his scruffy exterior and crazy ex-wife don't hold him back.

But maybe it's something in the water—unlikely romances seem to take root in Virgin River…helped along by some well-intentioned meddling, of course.
"Prolific Carr's new novel demonstrates that classic women's fiction, illuminating the power of women's friendships, is still alive and well."-Booklist on Four Friends

"Carr leads with confidence, and the path, though familiar, is fresh and inviting". -Publishers Weekly on Four Friends

"Hugely popular romance author Carr steps into women's fiction territory with this quietly powerful exploration of friendship, marriage and midlife crisis." -Kirkus on Four Friends

"An engaging romance that is sexy, funny and intensely touching."

-Library Journal on The Chance

"As usual, Carr delves into the lives of others in town, laying the groundwork for future books. This cozy read satisfies." -Publisher's Weekly on The Chance

"Carr focuses her superior storytelling on one couple for a can't-put-down read."

-RT Book Reviews on The Chance

"A touch of danger and suspense make the latest in Carr's Thunder Point series a powerful read."

-RT Book Reviews on The Hero

"With her trademark mixture of humor, realistic conflict, and razor-sharp insights, Carr brings Thunder Point to vivid life."

-Library Journal on The Newcomer

"No one can do small-town life like Carr."

-RT Book Reviews on The Wanderer

"Carr has hit her stride with this captivating series."
-Library Journal on the Virgin River series
Robyn Carr
is an award-winning, #1
New York Times bestselling
author of more than sixty novels, including highly praised women's fiction such as
Four Friends
and
The View From Alameda Island
and the critically acclaimed Virgin River, Thunder Point and Sullivan's Crossing series. Virgin River is now a Netflix Original series. Robyn lives in Las Vegas, Nevada. Visit her website at
www.RobynCarr.com
.