Forever Boy: A Mother's Memoir of Autism and Finding Joy
Spiral-Bound | April 5, 2022
Kate Swenson
Rebinding by Spiralverse™
★★★★☆+ from 1,001 to 10,000 ratings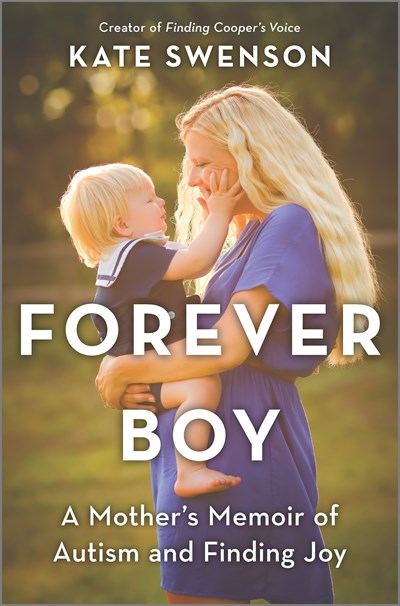 The creator of the blog and Facebook page Finding Cooper's Voice (655k followers) shares her raw, honest, and inspiring journey of raising a child with severe autism and coming into her own as a mother. This is sure to become an essential book for parents of children with autism and other special needs.
NATIONAL BESTSELLER

With her popular blog, Finding Cooper's Voice, Kate Swenson has provided hope and comfort for hundreds of thousands of parents of children with Autism. Now, Kate shares her inspiring story in this powerful memoir about motherhood and unconditional love

When Kate Swenson's son Cooper was diagnosed with severe, nonverbal autism, her world stopped. She had always dreamed of having the perfect family life. She hadn't signed up for life as a mother raising a child with a disability.

At first, Kate experienced the grief of broken dreams. Then she felt the frustration and exhaustion of having to fight for your child in a world that is stacked against them. But through hard work, resilience and personal growth, she would come to learn that Cooper wasn't the one who needed to change. She was. And it was this transformation that led Kate to acceptance—and ultimately joy. In Forever Boy, Kate shares her inspiring journey with honesty and compassion, offering solace and hope to others on this path and illuminating the strength and perseverance of mothers.

"Until the late twentieth century, autism was hidden in plain sight. Now it's a public health priority and focus of extensive research. However, it remains a black box. While we wait for answers, extraordinary people like Kate Swenson, through their dedicated and resourceful efforts have taken it upon themselves to create a nurturing environment in which children like Cooper can grow and thrive. Forever Boy will be an inspiration to all who face the challenge of caring for special needs children." —Dr. Jeffrey A. Lieberman, Lawrence C. Kolb Professor and Chairman of Psychiatry, Columbia University

"Forever Boy is a candid journey through the beauty and battles of having a child with autism. Kate blends wit and wisdom in an unapologetic account of marriage, motherhood and unconditional love. She captures the struggles, expectations and reality all parents face while advocating for their children. It's a story of unexpected loss; enduring hope and most importantly, newfound understanding. It should be mandatory reading for teachers or for anyone who has children or is thinking of having children." –Colin Balfe, founder of Love What Matters


"Kate Swenson has pulled the curtain back to show first-hand the challenges of life with a child with severe autism. For those who are in the dark about the disability, or know little about it, her story will be an eye opener." —Valerie Gilpeer, co-author of I Have Been Buried Under Years of Dust

"This wise, inspiring book will appeal to not only parents of children with autism, but anyone interested in stories about the selflessness and endurance of maternal love. A candid and hopeful addition to the personal literature on pediatric autism." —Kirkus Reviews
Kate Swenson is the creator of the blog and Facebook page Finding Cooper's Voice. She speaks regularly about autism, parenting, and motherhood, and is a contributor to TODAY Parents, The TODAY Show, and the Love What Matters blog. Her mission is to create a safe space for families of children and teens with special needs to come together and laugh, cry, and support each other. She lives in Minnesota with her family.