Phantom: Book Ten of The Sword of Truth
Spiral-Bound | May 29, 2007
Terry Goodkind
Rebinding by Spiralverse™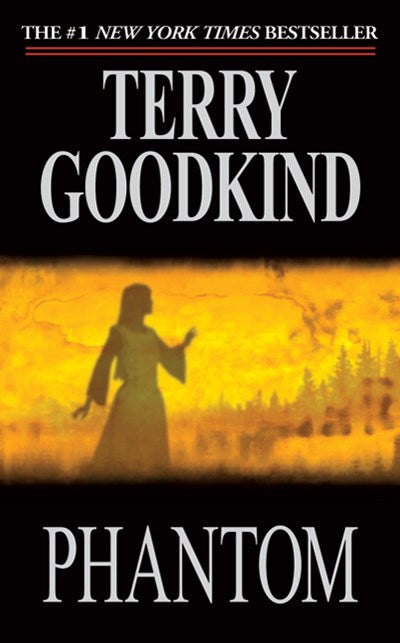 The new novel of Richard and Kahlan, and the direct sequel to Chainfire
On the day she awoke remembering nothing but her name, Kahlan Amnell became the most dangerous woman alive. For everyone else, that was the day that the world began to end.

As her husband, Richard, desperately searches for his beloved, whom only he remembers, he knows that if she doesn't soon discover who she really is, she will unwittingly become the instrument that will unleash annihilation. But Kahlan learns that if she ever were to unlock the truth of her lost identity, then evil itself would finally possess her, body and soul.

If she is to survive in a murky world of deception and betrayal, where life is not only cheap but fleeting, Kahlan must find out why she is such a central figure in the war-torn world swirling around her. What she uncovers are secrets darker than she could ever have imagined.
"Wonderfully creative, seamless, and stirring."
--Kirkus Reviews on Wizard's First Rule

"Wonderful."
--Kliatt on Stone of Tears

"Each volume of the Sword of Truth... proves more difficult to review than the last. There are only so many ways of heaping praise on a series that gets better and better."
--SFX on Blood of the Fold

"...outstanding work...adrenaline and characters who actually behave like adults. Highly recommended."
--San Diego Union Tribune on Temple of the Winds

"...thoroughly enjoyable."
--VOYA on Soul of the Fire

"Mr. Goodkind's compelling prose weaves a magic spell over readers."
--Romantic Times Bookclub on Faith of the Fallen

"Near-perfect pacing, well-realized settings, and superior descriptive narrative."
--VOYA on The Pillars of Creation
Terry Goodkind is a #1 New York Times bestselling author. His books include the eleven-volume Sword of Truth series, beginning with Wizard's First Rule, the basis for the television show Legend of the Seeker. Goodkind was born and raised in Omaha, Nebraska, where he also attended art school. Alongside a career in wildlife art, he has also been a cabinetmaker and a violin maker, and he has done restoration work on rare and exotic artifacts from around the world -- each with its own story to tell, he says. While continuing to maintain the northeastern home he built with his own hands, in recent years he and his wife Jeri have created a second home in the desert Southwest, where he now spends the majority of his time.