The Tiger Rising
Spiral-Bound | December 8, 2015
Kate DiCamillo
Rebinding by Spiralverse™
★★★☆☆+ from 10,001 to 50,000 ratings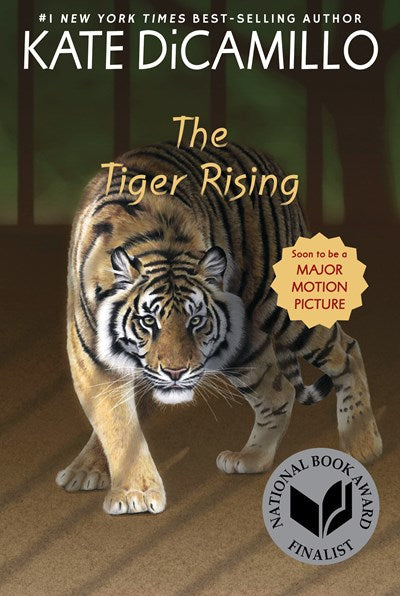 A National Book Award finalist by Newbery Medalist Kate DiCamillo.

Walking through the misty Florida woods one morning, twelve-year-old Rob Horton is stunned to encounter a tiger—a real-life, very large tiger—pacing back and forth in a cage. What's more, on the same extraordinary day, he meets Sistine Bailey, a girl who shows her feelings as readily as Rob hides his. As they learn to trust each other, and ultimately, to be friends, Rob and Sistine prove that some things—like memories, and heartache, and tigers—can't be locked up forever. Featuring a cover illustration by Stephen Walton.
Kate DiCamillo, whose Because of Winn-Dixie was a Newbery Honor Book, again explores the difficulty of fitting into a new place. But The Tiger Rising is even more emotionally affecting as Rob and Sistine, united by their aloneness, grapple with unlocking their own heartaches as they debate whether to free the tiger. —The New York Times Book Review

The author delves deeply into the psyches of her cast with carefully choreographed scenes, opting for the economy of poetry over elaborate prose. . . . DiCamillo demonstrates her versatility by treating themes similar to those of her first novel with a completely different approach. Readers will eagerly anticipate her next work. —Publishers Weekly (starred review)

It deals with the tough issues of death, grieving, and the great accompanying sadness, and has enough layers to embrace any reader. —School Library Journal (starred review)

The story deftly shows the anxiety and suspense of getting close to someone after experience has taught you that may not be safe to do. DiCamillo's gorgeous language wastes not a single word: spare and taut her sentences spin out, with the Florida mist rising off them, and unspoken words finally said aloud. —Booklist

Young readers who enjoyed DiCamillo's first novel won't be disappointed by her second. —The Bulletin of the Center for Children's Books

The brief novel, which features a well realized setting and an almost palpable aura of sadness, has a certain mythic quality. —The Horn Book

. . . the tiger, 'burning bright' with magnificent, feral presence, does make an arresting central image. —Kirkus Reviews

Together [the characters] learn about trust, friendship, and feelings as they plot to set the tiger free. In the process, they learn another valuable lesson, one that readers won't soon forget. This poignant, powerful story was written by the author of the Newbery Honor book Because of Winn-Dixie. —Dallas Morning News

DiCamillo, who grew up in Central Florida and wrote the multi-award winning Because of Winn-Dixie, could almost have titled her bittersweet second novel "Because of the Tiger" . . . because of the tiger, Rob and Sistine make the fateful decision that allows Rob and his father to grieve more openly for their loss. —Orlando Sentinel

Powerfully written by the author of Because of Winn-Dixie, this poignant story is certain to garner accolades on many levels. —Syndicated Column - Kendal Rautzhan
Kate DiCamillo says of THE TIGER RISING, "Rob Horton first showed up in a short story I was writing. I finished the story, but apparently Rob wasn't finished with me. He hung around for weeks afterward, haunting the other stories I was working on. Finally, I said to him, 'What in the world do you want?' And he said, 'I know where there's a tiger.' Like Sistine, I said one word back to him, 'Where?' THE TIGER RISING is how Rob Horton answered me."