The Circus Ship
Spiral-Bound | September 22, 2009
Chris Van Dusen, Chris Van Dusen (Illustrated by)
Rebinding by Spiralverse™
★★★★☆+ from 1,001 to 10,000 ratings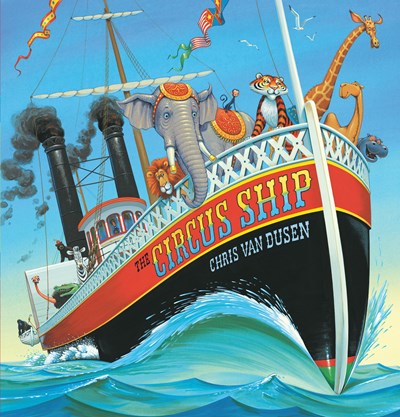 With stunning artwork and a rhyming text, the illustrator of the Mercy Watson books tells a tale of human-animal connection full of humor and heart.

When a circus ship runs aground off the coast of Maine, the poor animals are left on their own to swim the chilly waters. Staggering onto a nearby island, they soon win over the wary townspeople with their kind, courageous ways. So well do the critters blend in that when the greedy circus owner returns to claim them, villagers of all species conspire to outsmart the bloated blowhard. With buoyant rhymes and brilliantly caricatured illustrations evoking the early nineteenth century, Chris Van Dusen presents a hugely entertaining tale about the bonds of community — and a rare hidden-pictures spread for eagle-eyed readers of all ages.
The verse is sprightly, but the pictures are the true stunners. Bright, lampooning gouaches (familiar from the Mercy Watson series) and dizzying perspective perfectly suit this picaresque tale...Children will pore over panoramic spreads that invite them to find each of the 15 animals and celebrate a denouement that serves up Mr. Paine's just deserts. Splendid!
—Kirkus Reviews (starred review)
Chris Van Dusen is the illustrator of the Mercy Watson books by Kate DiCamillo. He wrote and illustrated Down to the Sea with Mr. Magee, A Camping Spree with Mr. Magee, and If I Built a Car. He lives in Maine.