Mafia Prince: Inside America's Most Violent Crime Family and the Bloody Fall of La Cosa Nostra
Spiral-Bound | April 29, 2014
Phil Leonetti, Scott Burnstein (With), Christopher Graziano (With)
Rebinding by Spiralverse™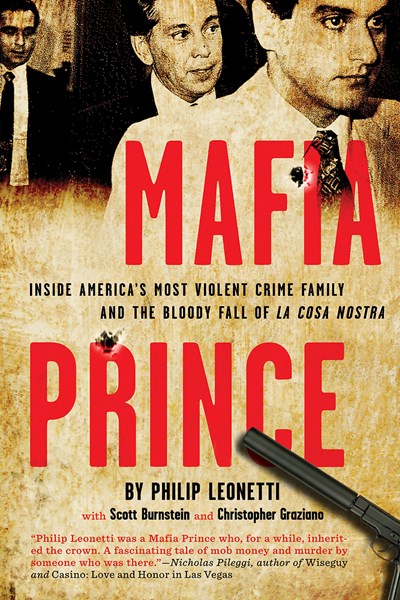 A first-person account of the violent downfall of the traditional American Mafia in the final heyday of the 1980s.
MONEY, MURDER, AND MACHIAVELLIAN MAYHEM . . . CONTAINS A NEW EPILOGUE
Mafia Prince
is the first person account of one of the most brutal eras in Mafia history -- "Little Nicky" Scarfo's reign as boss of the Philadelphia family in the 1980s -- written by Scarfo's underboss and nephew, "Crazy Phil" Leonetti.
The youngest-ever underboss at the age of 33, Leonetti was at the crux of the violent breakup of the traditional American Mafia in the 1980s when he infiltrated Atlantic City after gambling was legalized, and later turned state's evidence against his own. His testimony led directly to the convictions of dozens of high-ranking men including John Gotti, Vincent Gigante, and the downfall of his own uncle, Nick Scarfo -- sparking the beginning of the end of
La Cosa Nostra
(the insiders' term for the Mafia, translated as "This Thing of Ours").
"Philip Leonetti was a Mafia Prince who, for a while, inherited the crown. A fascinating tale of mob money and murder by someone who was there."
-Nicholas Pileggi, author of Wiseguy and Casino: Love and Honor in Las Vegas

Philip Leonetti (aka "Crazy Phil") was the youngest underboss in the history of the American Mafia at the age of 31. He has been in the Witness Protection Program for almost two decades.

Scott Burnstein is a true crime reporter and author of the regional bestseller Motor City Mafia.

Christopher Graziano is a mob historian currently living on the East Coast.