A Healthier Home: The Room by Room Guide to Make Any Space A Little Less Toxic
Spiral-Bound | February 14, 2023
Shawna Holman
Rebinding by Spiralverse™
★★★★☆+ from 101 to 500 ratings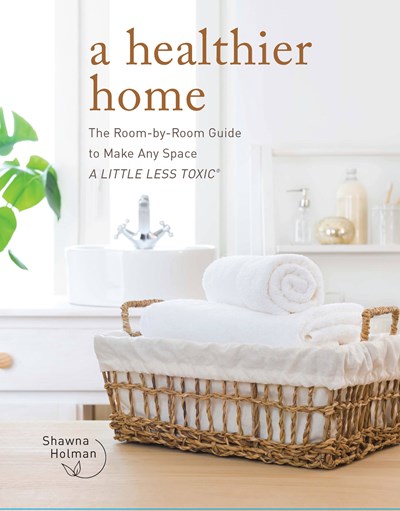 In
A Healthier Home
, Shawna Holman, founder of A Little Less Toxic, provides an inspirational yet achievable approach for making the home a safer space.
"If you are looking for a tangible, stress-free guide to protect you and your family from everyday environmental toxins, THIS IS IT!"
—Dr. Vivian Chen, MD, founder of Plateful Health and Detox Right

With all the time spent at home in recent years, you probably realize how much the inside of your home contributes to your mental and physical health, for better or worse. But did you know that the Environmental Protection Agency estimates that indoor air is 2–5 times (and occasionally more than 100 times) more polluted than outdoor air?

The good news is that you can control and improve the environment inside your home, and A Healthier Home provides an accessible, room-by-room roadmap for doing just that. Wherever you are on your journey to a healthier home, author and founder of A Little Less Toxic, Shawna Holman, offers realistic steps you can take to maintain a less toxic living environment that aligns with your values. Create a healthy, happy living space with simple swaps and hacks for banning hidden harms in every room:

Kitchen: Finding the best cookware, helpful tools and gadgets, safe serving ware and food storage, all about supplements, buying cleaning products, DIY cleaning products
Laundry Room: Washing machine and detergent recommendations, DIY spot treatment, whitening without bleach, treating stains, clotheslines, tips and tricks
Bathroom: Toiletries, oral hygiene, water (including chlorine and fluoride), self-care, skincare and a few DIY skincare recipes, medicine cabinet, hair training, cleaning (including deep cleaning/going beyond the basics of the kitchen!)
Bedroom: Mattress shopping, pillows, linens, all about certifications and materials, condoms and lubrication, pregnancy prevention/fertility, sleeping tips, blue light, hacks and tips for cleaning in the bedroom
Living Room: Indoor air quality, air purifiers, filters, furniture and rugs (materials and more), air fresheners (key swaps, essential oil how-tos, and candle info), mold mindfulness, EMF protection
Garden: Lawn care, sun protection, insect protection, after-sun care, and grounding
From tackling toxins and revamping your kitchen to making a greener garden and ensuring cleaner laundry,
A Healthier Home
will aid you in creating a
sustainable, safe lifestyle that benefits both your mind and body
. Every corner of your home can be made to better serve you and your family—it's just a matter of getting started!
"Many of us are on a quest for healthier lives. While much of that happens on the inside, our environment is also important. In A Healthier Home, Shawna Holman offers transformative but approachable advice for making your home a safe and healthier space to play, work, and grow."—Dr. Josh Axe, D.N.M., C.N.S., D.C., founder of Ancient Nutrition and DrAxe.com
Shawna Holman, founder of A Little Less Toxic is a mother, a wife, and a dedicated teacher. After battling life-altering health issues, Shawna was determined to find long-lasting and healthy solutions rather than harmful quick-fixes. In 2013, she began her journey towards making radical health improvements through small life changes, taking her followers along for the ride. By seeking out, implementing, and sharing her life transformation, Shawna motivates her audience to support their health and healing through sustainable, realistic, and mindful lifestyle changes. Since healing her health issues and finding solace in creating a healthy home environment, Shawna is intent on sharing her story and helping those looking to live life A Little Less Toxic. Find her online at alittlelesstoxic.com.