AP® Biology Crash Course, Book + Online: Get a Higher Score in Less Time (3rd Edition, Revised)
Spiral-Bound | February 4, 2020
Michael D'Alessio, Christina Palffy (Edited by)
Rebinding by Spiralverse™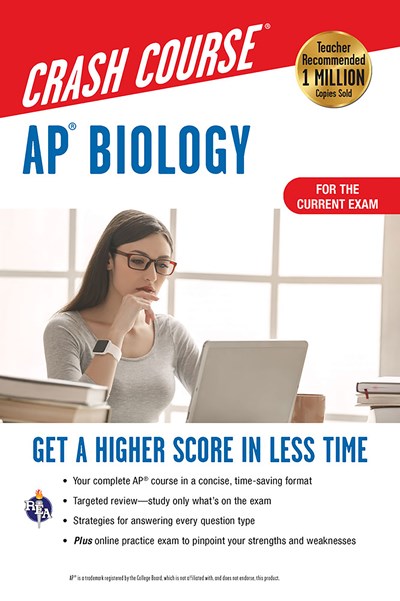 AP® Biology Crash Course® - updated for today's exam
A Higher Score in Less Time!
At REA, we invented the quick-review study guide for AP® exams. A decade later, REA's Crash Course® remains the top choice for AP® students who want to make the most of their study time and earn a high score.
Here's why more AP® teachers and students turn to REA's AP® Biology Crash Course®:
Targeted Review - Study Only What You Need to Know. REA's all-new 3rd edition addresses all the latest test revisions. Our Crash Course® is based on an in-depth analysis of the revised AP® Biology course description outline and sample AP® test questions. We cover only the information tested on the exam, so you can make the most of your valuable study time.
Expert Test-taking Strategies and Advice. Written by a veteran AP® Biology teacher and test development expert, the book gives you the topics and critical context that will matter most on exam day. Crash Course® relies on the author's extensive analysis of the test's structure and content. By following her advice, you can boost your score.
Practice questions – a mini-test in the book, a full-length exam online. Are you ready for your exam? Try our focused practice set inside the book. Then go online to take our full-length practice exam. You'll get the benefits of timed testing, detailed answers, and automatic scoring that pinpoints your performance based on the official AP® exam topics – so you'll be confident on test day.
Whether you're cramming for the exam or looking to recap and reinforce your teacher's lessons, Crash Course® is the study guide every AP® student needs.
About Our Author

Michael D'Alessio earned his B.S. in Biology from Seton Hall University, South Orange, New Jersey, and his M.S. in Biomedical Sciences from the University of Medicine and Dentistry of New Jersey. In 2004, he earned his Executive Master of Arts in Educational Leadership from Seton Hall University.

Mr. D'Alessio has had an extensive career teaching all levels of mathematics and science, including AP Biology, chemistry, physics, algebra and geometry. Most of Mr. D'Alessio's AP Biology students received scores of 4 or 5 on the AP Biology exam.

Currently, Mr. D'Alessio serves as the Supervisor of the Mathematics and Business Department at Watchung Hills Regional High School in Warren, New Jersey, overseeing a department of 30 teachers.


About our Revisions Editor
Christina Palffy earned a B.S. in Biology from the University of Illinois in Urbana-Champaign and an M.S. in biology from Northeastern Illinois University. During 8 of her 24 year teaching career, Ms. Palffy taught botany, general biology, environmental biology and genetics at Harper College and the College of Lake County. For 16 years she has taught high school biology, including 12 years teaching AP® Biology. Ms. Palffy currently serves on the board of the Illinois Junior Academy of Science and currently teaches at Adlai E. Stevenson High School in Lincolnshire, Illinois.