All of the Marvels: A Journey to the Ends of the Biggest Story Ever Told
Spiral-Bound | October 12, 2021
Douglas Wolk
Rebinding by Spiralverse™
★★★★☆+ from 1,001 to 10,000 ratings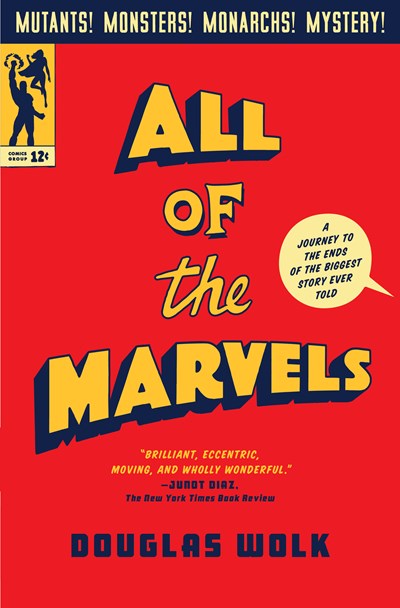 Winner of the 2022 Eisner Award for Best Comics-Related Book

The first-ever full reckoning with Marvel Comics' interconnected, half-million-page story, a revelatory guide to the "epic of epics"—and to the past sixty years of American culture—from a beloved authority on the subject who read all 27,000+ Marvel superhero comics and lived to tell the tale

"Brilliant, eccentric, moving and wholly wonderful. . . . Wolk proves to be the perfect guide for this type of adventure: nimble, learned, funny and sincere. . . . All of the Marvels is magnificently marvelous. Wolk's work will invite many more alliterative superlatives. It deserves them all." —Junot Díaz, New York Times Book Review

The superhero comic books that Marvel Comics has published since 1961 are, as Douglas Wolk notes, the longest continuous, self-contained work of fiction ever created: over half a million pages to date, and still growing. The Marvel story is a gigantic mountain smack in the middle of contemporary culture. Thousands of writers and artists have contributed to it. Everyone recognizes its protagonists: Spider-Man, the Avengers, the X-Men. Eighteen of the hundred highest-grossing movies of all time are based on parts of it. Yet not even the people telling the story have read the whole thing—nobody's supposed to. So, of course, that's what Wolk did: he read all 27,000+ comics that make up the Marvel Universe thus far, from Alpha Flight to Omega the Unknown.

And then he made sense of it—seeing into the ever-expanding story, in its parts and as a whole, and seeing through it, as a prism through which to view the landscape of American culture. In Wolk's hands, the mammoth Marvel narrative becomes a fun-house-mirror history of the past sixty years, from the atomic night terrors of the Cold War to the technocracy and political division of the present day—a boisterous, tragicomic, magnificently filigreed epic about power and ethics, set in a world transformed by wonders.

As a work of cultural exegesis, this is sneakily significant, even a landmark; it's also ludicrously fun. Wolk sees fascinating patterns—the rise and fall of particular cultural aspirations, and of the storytelling modes that conveyed them. He observes the Marvel story's progressive visions and its painful stereotypes, its patches of woeful hackwork and stretches of luminous creativity, and the way it all feeds into a potent cosmology that echoes our deepest hopes and fears. This is a huge treat for Marvel fans, but it's also a revelation for readers who don't know Doctor Strange from Doctor Doom. Here, truly, are all of the marvels.
Selected as a top book of 2021 by Mother Jones, New Hampshire Public Radio, and the Maine Edge
A New York Times Book Review Editors' Choice

"Highly enjoyable . . . Mr. Wolk brings to his task insight, humor and a deep love of Marvel." —The Wall Street Journal

"Wolk, an engaging and generous critic, structures [All of the Marvels] as a part-guide, part-reflection on the nature of Marvel's decades-long, interconnected narrative, which he consumed in its entirety. . . . He uses his experience to become the best kind of inclusive host." —Mother Jones

"For anyone willing to take [a] step into the inconceivably vast and wonderful world that generations of creators have brought to us, issue by issue, month by month, year by year, All of the Marvels is an indispensable handbook. And for anyone seeking an explanation for the enduring popularity of our modern superhero mythology, Wolk has provided as well-informed and well-argued a thesis as you're likely to find." —Forbes

"[An] engrossing, rich tome." —The Village Voice

"A remarkable accomplishment." —Pittsburgh Post-Gazette

"All of the Marvels is one fantastic read for anyone who loves comic books. Is it a stunt? Sure is—and a hell of a good one. Just an incredible idea. Spectacular. Mighty. It is smart and funny, rife with sharp analysis and engaging ideas. In short, it treats this body of work with genuine respect—respect it absolutely deserves." —The Maine Edge


"An affectionate, lively, charmingly footnoted whistle-stop tour through Marvel Comics that acknowledges the many places where the comics stumble as well as the many where they shine. Wolk is unwavering in his belief that comics are for everyone, and he offers numerous jumping-on points for new readers. Every comics fan needs this book." —Booklist

"Wolk is a capable guide, wry, friendly. . . . He's an astute close reader who can elucidate not just the chemistry between writers and artists but also the underrated role of colorers and letterers; and he tracks the evolution of Marvel's abiding themes with the right mix of respect and amusement." —The Spectator (UK)

"All of the Marvels, a masterful tour of the last six decades of Marvel Comics, evokes much of the childlike wonder and alacrity of combing the spinner racks, eager to turn your afternoon over to another escapist fantasy. . . . All of the basics are covered here, including Spider-Man, Thor, and the X-Men, and Wolk writes beautifully about them. . . . A kinetic, enjoyable reading experience." —AIPT

"Wolk gets into a number of fascinating discussions about the very notion of reading the entire output of Marvel Comics . . . you feel like you're reading along with a friend and it makes the whole endeavor so much more interesting and appealing. . . . This is a great, fun book about comics that I highly recommend you pick up." —Brian Cronin, Comic Book Resources

"Wolk is the perfect tour guide for this Marvel Comics journey and paints a vivid picture of the intricately connected Marvel Universe. . . . Chapter after chapter, he brilliantly provides overviews of some of Marvel's most iconic characters. . . . The novelty of Wolk's work is his ability to take a character and jump between decades to different series, showing how both ardent true believers and comic novices can take pleasure in their stories. . . . For those looking for a map to navigate the web of Marvel Comics, All of the Marvels is a delightful and gratifying outline that will please comic fans of all calibers." —Samuel Gelman, Comic Book Resources

"The way Wolk makes sense of, finds beauty in, and connects all the different stories and details is masterful. . . . A must-read for all Marvel fans, from devotees to newbies, All of the Marvels is a colorful and heartfelt journey through the Marvel Universe, and highlights just what makes this epic feat of storytelling so special." —Hypable

"Wolk's light and humorous style appeals. . . . [All of the Marvels] will likely become a bible for serious comics fans and a useful introduction and reference guide for all others. Highly recommended." —Library Journal (starred review)

"Wolk pulls off an extraordinary feat in this tour-de-force, distilling over 60 years of Marvel Comics stories into a fascinating guide that will resonate with true believers and neophytes alike. . . . Comics fans will be riveted." —Publishers Weekly (starred review)

"A simultaneously wide-ranging and engagingly specific guide to the sprawling realm of comics culture." —Kirkus

"Wolk hasn't just read the entire Marvel catalog—an extraordinary feat all on its own—he's managed to extract thematic and narrative threads from the longest-running continuous narrative in human history and to identify key pillars upon which to build his exploration of what the Marvel universe is, and what's so damn interesting about it. No prior knowledge or familiarity with Marvel (or comics, even!) is expected or required, which means this is it, the book we've been waiting for, the long-desired guidebook for newcomers and lifelong fans alike. If someone is curious about getting into Marvel comics and doesn't know where to start? Start here." —Kelly Sue DeConnick (Captain Marvel, Avengers Assemble)

"Some of us are haunted by the memory of a childhood glimpse of some vast evocative dream; others exasperated by the slick iconography that has taken over our screens, wallets, and eyeballs. If you're like me, it's both. For all of us, Douglas Wolk's naked dive into the Marvel source code is a revelation, a tour both electrifying in its weird charisma, and replenishing in its loving specificity. As an account of how a motley gang of accidental collaborators created a vernacular mythology out of the dodgiest of commercial occasions, it's also a testament, and a tribute. Like Greil Marcus in Mystery Train or Manny Farber in Negative Space, Wolk pushes aside paraphrase to free up an encounter with what's been there all along, homegrown art." —Jonathan Lethem

"Over the past sixty years, Marvel has published a lot of comics—a stack nearly twenty stories high! Douglas Wolk has read his way to the top of Excelsior Towers, and in All of the Marvels he shares with us the view of the entire Marvel Universe. Whether a die-hard fan or a comic book novice, you'll find this entertaining and engaging book endlessly rewarding, as Wolk highlights the culture in this form of popular culture." —James Kakalios, physics professor, University of Minnesota and author of The Physics of Superheroes


"Thorough, fascinating and joyfully executed, All of the Marvels is essential reading for fans and scholars alike. A magisterial work of pop culture research." —G. Willow Wilson, author of Ms. Marvel

"What sounds like a madman's quest turns out to be a deeply emotional hero's journey. The best work yet from the best writer about the medium of comics." —Brian K. Vaughan (Saga)






Douglas Wolk is the author of the Eisner Award–winning Reading Comics and the host of the podcast Voice of Latveria. A National Arts Journalism Program fellow, Wolk has written about comic books, graphic novels, pop music, and technology for The New York Times, Rolling Stone, The Washington Post, Los Angeles Times, The Believer, Slate, and Pitchfork. He lives in Portland, Oregon.