Thinking in Bets: Making Smarter Decisions When You Don't Have All the Facts
Spiral-Bound | February 6, 2018
Annie Duke
Rebinding by Spiralverse™
★★★☆☆+ from 10,001 to 50,000 ratings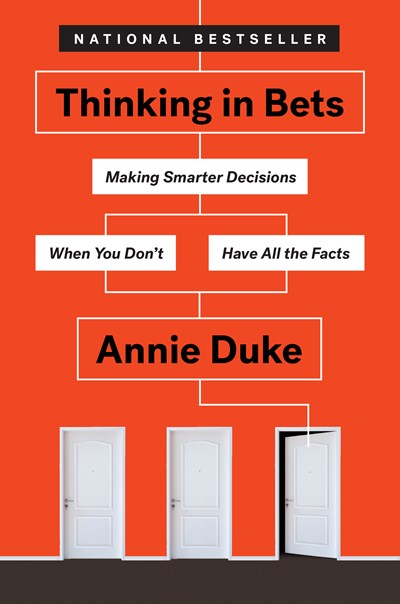 Wall Street Journal bestseller!

Poker champion turned business consultant Annie Duke teaches you how to get comfortable with uncertainty and make better decisions as a result.

In Super Bowl XLIX, Seahawks coach Pete Carroll made one of the most controversial calls in football history: With 26 seconds remaining, and trailing by four at the Patriots' one-yard line, he called for a pass instead of a hand off to his star running back. The pass was intercepted and the Seahawks lost. Critics called it the dumbest play in history. But was the call really that bad? Or did Carroll actually make a great move that was ruined by bad luck?

Even the best decision doesn't yield the best outcome every time. There's always an element of luck that you can't control, and there is always information that is hidden from view. So the key to long-term success (and avoiding worrying yourself to death) is to think in bets: How sure am I? What are the possible ways things could turn out? What decision has the highest odds of success? Did I land in the unlucky 10% on the strategy that works 90% of the time? Or is my success attributable to dumb luck rather than great decision making?

Annie Duke, a former World Series of Poker champion turned business consultant, draws on examples from business, sports, politics, and (of course) poker to share tools anyone can use to embrace uncertainty and make better decisions. For most people, it's difficult to say "I'm not sure" in a world that values and, even, rewards the appearance of certainty. But professional poker players are comfortable with the fact that great decisions don't always lead to great outcomes and bad decisions don't always lead to bad outcomes.

By shifting your thinking from a need for certainty to a goal of accurately assessing what you know and what you don't, you'll be less vulnerable to reactive emotions, knee-jerk biases, and destructive habits in your decision making. You'll become more confident, calm, compassionate and successful in the long run.
"A big favorite among investors these days." –The New York Times

"A compact guide to probabilistic domains like poker, or venture capital... Recommend for people operating in the real world." –Marc Andreessen

"Outstanding." –Jason Zweig, The Wall Street Journal

"Duke's discussion is full of wisdom and also of fun, warmth, humor and humanity. Her sharp, data-driven analysis comes with a large lesson, which is that losers should be willing to forgive themselves: Sometimes the right play just doesn't work." –Cass Sunstein, co-author of Nudge

"An elegant fusion of poker-table street-smarts and cognitive science insights. This book will make you both a shrewder and wiser player in the game of life." –Philip E. Tetlock, author of Superforecasting

"Thinking in Bets offers a compelling, and eminently useful, new way to think about life's decisions. Annie Duke has written an important, and often hilarious, book that will help you understand your own shortcomings--and make smarter choices as a result. You can bet on it." –Maria Konnikova, author of The Confidence Game and Mastermind

"The insights Duke offers in this book are incredibly helpful when we contemplate decisions in the face of multiple possible outcomes, and that renders her book enormously applicable to the world of investing." –Howard Marks, co-chairman, Oaktree Capital Management and author of The Most Important Thing

"Through wonderful storytelling and sly wit, Annie Duke has crafted the ultimate guide to thinking about risk. We can all learn how to make better decisions by learning from someone who made choices for a living, with millions on the line." –Charles Duhigg, author of The Power of Habit and Smarter Faster Better

"Brilliant. Buy ten copies and give one to everyone you work with. It's that good." –Seth Godin, author of The Icarus Deception

"A mind-bending and indispensable book for entrepreneurs, leaders, and anyone who faces risk on a regular basis." –Olivia Fox Cabane, author of The Net and the Butterfly

"A highly-readable balance between memorable, real-world analogies and hardcore behavioral science studies... The book is packed with insights." –John Greathouse, Forbes

Annie Duke is a World Series of Poker bracelet winner, the winner of the 2004 Tournament of Champions and the only woman to win the NBC National Poker Heads Up Championship. Now, as a professional speaker and decision strategist, she merges her poker expertise with her cognitive psychology graduate work at UPenn. She is a founder of How I Decide, a non-profit that creates curricula and tools to improve decision making and critical thinking skills for under-served middle schoolers.