Spineless: The Science of Jellyfish and the Art of Growing a Backbone
Spiral-Bound | November 6, 2018
Juli Berwald
Rebinding by Spiralverse™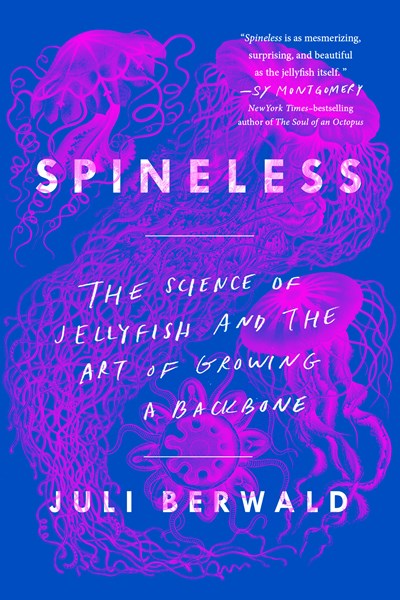 "A book full of wonders" —Helen Macdonald, author of H Is for Hawk

"Witty, insightful. . . .The story of jellyfish. . . is a significant part of the environmental story. Berwald's engaging account of these delicate, often ignored creatures shows how much they matter to our oceans' future." —New York Times Book Review

Jellyfish have been swimming in our oceans for well over half a billion years, longer than any other animal that lives on the planet. They make a venom so toxic it can kill a human in three minutes. Their sting—microscopic spears that pierce with five million times the acceleration of gravity—is the fastest known motion in the animal kingdom. Made of roughly 95 percent water, some jellies are barely perceptible virtuosos of disguise, while others glow with a luminescence that has revolutionized biotechnology. Yet until recently, jellyfish were largely ignored by science, and they remain among the most poorly understood of ocean dwellers.

More than a decade ago, Juli Berwald left a career in ocean science to raise a family in landlocked Austin, Texas, but jellyfish drew her back to the sea. Recent, massive blooms of billions of jellyfish have clogged power plants, decimated fisheries, and caused millions of dollars of damage. Driven by questions about how overfishing, coastal development, and climate change were contributing to a jellyfish population explosion, Juli embarked on a scientific odyssey. She traveled the globe to meet the biologists who devote their careers to jellies, hitched rides on Japanese fishing boats to see giant jellyfish in the wild, raised jellyfish in her dining room, and throughout it all marveled at the complexity of these alluring and ominous biological wonders.

Gracefully blending personal memoir with crystal-clear distillations of science, Spineless is the story of how Juli learned to navigate and ultimately embrace her ambition, her curiosity, and her passion for the natural world. She discovers that jellyfish science is more than just a quest for answers. It's a call to realize our collective responsibility for the planet we share.
"Spineless is as mesmerizing, surprising, and beautiful as the jellyfish itself. Every page contains some astonishing treasure. If you cherish the sea, if you care about the environment, if you relish life on this sweet, blue planet, you will love this book." —Sy Montgomery, New York Times–bestselling author of The Soul of an Octopus

"Thoroughly engaging. . . . Berwald shows us a kind of natural science in which beauty and wonder, scientific investigation and the varied shapes of human lives are bound closely together. I love Spineless for that, and also for its inspiring call to follow your own star." —Helen Macdonald, author of H is for Hawk

"Berwald's engaging book is part memoir, part pop science, weaving together stories of her own twisting academic path along with fascinating, vivid details about the delicate creatures." —New York Times Book Review

"Part travelogue, part memoir, part deep-dive (literally) into the world of jellyfish... Spineless can serve as inspiration for any of us to reclaim a creative space in the midst of family life." —NPR

"[Spineless is] fascinating... This combination of insider and outsider perspective is uniquely suited to a book on creatures whose internal organs are visible through transparent outer layers." —Wall Street Journal


"[Berwald's] sense of wonder is infectious and the book is a heartfelt plea for humans to fulfill their responsibilities toward nature." —New Yorker
"In this memoir/science-reporting mash-up, [Berwald] profiles one of the ocean's most intriguing creatures—the unique contractions it uses to propel through water, its acidifying habitat and its booming populations." —Scientific American

"An astonishingly gorgeous book... Science enthusiasts, curious animal lovers, and those who want to educate themselves more on climate change's effect on our oceans will find this book irresistible." —W Magazine

"Carefully and insistently, Berwald's book reveals to us that the world is wider and vastly stranger than we know… This is a book full of wonders." —New Statesman


"Berwald's clear, delectable prose is accessible... The book forces the reader to reconsider the future of our planet, and of our role in it. It will, at the very least, leave you with a newfound appreciation of the translucent, spineless jellies." —Buzzfeed
"A wandering, compelling mixture of memoir and nature writing... [written with] clear, strong prose, a welcome help when dealing with the complex stew of biomechanics, chemistry and evolutionary theory that the subject entails." —Texas Observer

"Breathtaking... What shines through this is Berwald's fascination with her subject, and the way it transformed a woman feeling stuck in her life and craving a new purpose." —Outside

"There is perhaps no more soothing sight than the illuminated jellyfish tanks in an aquarium. In Spineless Juli Berwald brings us inside, unraveling a memoir about the scientific exploration of these strange, wonderful creatures." —Popular Science

"Berwald offers an engrossing look at the enigmatic sea creature most easily recognised in its swimming 'medusa' form. . . . A revelatory science memoir." —BBC Culture

"It's a story of personal discovery, rediscovery of the underwater world, and an earth-spanning journey to study these complex creatures, all the while throwing into stark relief the importance of understanding and protecting our increasingly endangered marine ecosystems." —Southern Living


"Full of humor and intrigue, Spineless is a seaworthy saga brimming with information about not only jellyfish but also about the health and future of the oceans and our planet." —BookPage
"Stunning memoir." —Bustle

"Captivating and informative." —Publishers Weekly (starred review)

"Unexpected and uniquely delightful." —Parade Magazine

"In this astonishing adventure of a book, Juli Berwald takes us on a personal journey into the enchanting and mystifying aqueous world of jellyfish, and in so doing, sheds light on the vital ecological balances upon which our own survival depends." —Ruth Ozeki, author of A Tale for the Time Being
Juli Berwald received her Ph.D. in Ocean Science from the University of Southern California. A science textbook writer and editor, she has written for a number of publications, including The New York Times, Nature, National Geographic, and Slate. She lives in Austin with her husband and their son and daughter.