Heartburn
Spiral-Bound | May 28, 1996
Nora Ephron
Rebinding by Spiralverse™
★★★☆☆+ from 50,001 + ratings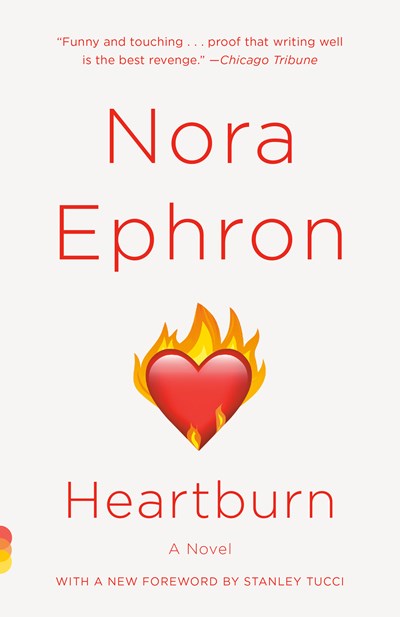 A 40th anniversary reissue of the national bestselling author's hilarious first novel that memorably mixed food, heartbreak, and revenge into a comic masterpiece—now with a new foreword by Stanley Tucci. • "Touching and funny.... Proof that writing well is the best revenge." —Chicago Tribune

Is it possible to write a sidesplitting novel about the breakup of the perfect marriage? If the writer is Nora Ephron, the answer is a resounding yes. In this inspired confection of adultery, revenge, group therapy, and pot roast, the creator of Sleepless in Seattle and When Harry Met Sally... reminds us that comedy depends on anguish as surely as a proper gravy depends on flour and butter.

Seven months into her pregnancy, Rachel Samstat discovers that her husband, Mark, is in love with another woman. The fact that the other woman has "a neck as long as an arm and a nose as long as a thumb and you should see her legs" is no consolation. Food sometimes is, though, since Rachel writes cookbooks for a living. And in between trying to win Mark back and loudly wishing him dead, Ephron's irrepressible heroine offers some of her favorite recipes.

Heartburn is a sinfully delicious novel, as soul-satisfying as mashed potatoes and as airy as a perfect soufflé.
"Touching and funny.... Proof that writing well is the best revenge." —Chicago Tribune

"Great fun.... Though Heartburn bristles ferociously with wit, it's not lacking in soul." —The New York Times Book Review

"Nora Ephron's first novel is warm, witty and wise." —Harper's Bazaar
NORA EPHRON is the author of the bestselling I Feel Bad About My Neck as well as Heartburn, Crazy Salad, Wallflower at the Orgy, and Scribble Scribble. She wrote and directed the hit movie Julie & Julia and received Academy Award nominations for Best Original Screenplay for When Harry Met Sally. . ., Silkwood, and Sleepless in Seattle, which she also directed. Her other credits include the script for the stage hit Love, Loss, and What I Wore with Delia Ephron. She died in 2012.